I will guide you through Mexico.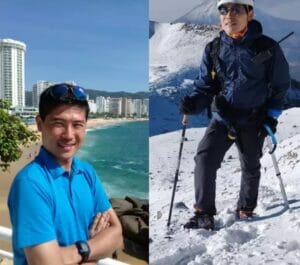 Greetings
Nice to meet you, everyone.
17 years in MexicoThis is Isao Iwasaki from .
I love traveling (poor travel) even in my private life, and I have driven almost all of the important points in the southern half of Mexico (south of the latitude where Zacatecas is located), the Baja California Peninsula, and some northern parts.I like it because when I go by car, I have the freedom to see the scenery along the way, stop and eat if there's something that looks good, and stay overnight wherever I like. As of 2019, I love driving so much that I have driven 10 times around the world (more than 40 km) in Mexico. (Continuing lifelong accident-free record)
My hobby is dancing (cumbia and salsa).She started doing it because she was a bad lover, but she loves it anyway, and no matter how bad things are, whether she's tired or sad, if she makes a fuss with her friends over tequila and salsa, everything will be blown away. (laughs) I got married in 2018, and dancing was also the reason I met my Mexican wife.In the car, there is always lively music such as salsa and cumbia, so even her wife is amazed.
I came to like Japanese sake after coming to Mexico.I also have a license as a sake taster, and I also like explaining Japanese sake to people in Mexico, including tequila.
Living as a Japanese (foreigner) in Mexican society amidst the values ​​of the Mexican people, traveling over 40 kilometers in Mexico, and being able to say, "This is Mexico!" I fell in love with the simplicity of Mexico that makes people happy and energetic.I believe that this is the true face of Mexico, and I started this business with the hope that even for a short time, everyone in Japan would be able to touch it with their five senses.I would like many people to feel that "I am a different person before I know Mexico" than I am after I know Mexico.
Zakkuri and this kind of person
Personality/Personality:Gentle, usually quiet but passionate about what he likes, sore loser, caring, poor talker but talkative, simple way of thinking, super open
Nickname:Human GPS (I drive all over Mexico, so if I look at the map before I leave, I can get almost anywhere without a navigation system = in a way a special skill), Human Cyborg (My wife and former boss say I don't get tired no matter how much I go)
好 き な も の :nature, culture and people
Books that impressed me:Naomi Uemura's "Betting Your Youth on the Mountains"
Motto:Vivir mi vida, tomorrow the wind may not blow, lifelong active
Favorite music genre:Salsa, cumbia, bachata, reggaeton, ranchera (mariachi), some rock
Favorite music artist:X JAPAN (Yoshiki), GLOBE (TK), Juan Gabriel, José José, Vicente Fernandez, La Sonora Dinamita, Adolescentes Orquesta, etc.
Favorite instrument (just listen): piano, conga, drums, violin
Favorite food:Sushi, sashimi, ramen, curry, posole, mole, trout dishes, cheese
hated food:Weird meat, getty stuff, sweet stuff, fancy stuff
Favorite alcohol:beer, mezcal (tequila), sake
thing of interest:Honesty, Conversation, Dancing, Eating & Drinking, Reading (I can't read at all), Driving, Traveling with family, Photography, Running, Climbing, Guide to Mexico
Dislikes:Tatemae, group life and collective action, speculation, staying still, hitting stone bridges, bravado, compromise, inertia,
Favorite animal:cats, rabbits and some dogs
Impossible Creatures:ヘ ビ
Favorite Place:Mountains (general nature), cafes, deserted beaches, historic sites, dance halls
Disliked places:Theme parks, overdeveloped tourist sites, luxury hotels and resorts, fine dining, glamping grounds
Countries visited so far:Mexico, Cuba, USA, Canada, Guatemala, Honduras, Panama, Peru, Chile, Argentina, Uruguay, Singapore, Malaysia, Vietnam, Indonesia
Country you would like to visit:Spain, France, Germany, Poland, Austria, Israel, Turkey, Greece, Italy, Morocco, Egypt
Places I want to go/things I want to do before I die:Hiking the Himalayas (even if you don't climb the mountains), seeing the Northern Lights, traveling to the Middle East (I hope you're safe), and spending your days quietly reading when you can't move.
Biography
1982 Born in Kakegawa City, Shizuoka Prefecture
1995 XNUMXnd year study abroad in Uruki Village, Nagano Prefecture
1998 Entered Hamamatsu Commercial High School
2001 Entered Nihon University College of Commerce
2004-05 Living in Canada
2005 Stayed in Mexico for a month
2005-06 Fundraising at a Japanese factory
2006 Moved to Mexico
2007 Joined a trading company, went bankrupt in 08
2009 Business at a Japanese trading company
2018 Started wedding and tourism business
2019 Leaving office ⇒ current position
2020 Started life coach business
≫≫Latin life revival coaching
In 2022, I will be a father and a househusband at home
Qualification
Cultural tourism guide certified by the Ministry of Tourism of Mexico/Category: Nationwide (NOM08-TUR-2002)
As one of the few certified Japanese guides, we will explain the complex Mexican culture in an easy-to-understand manner based on official information, and guide you safely and efficiently.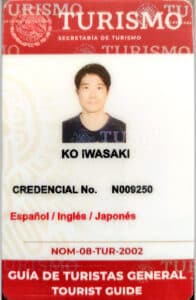 Mexican Ministry of Tourism Certified Nature Guide/Category: Hiking/Climbing (NOM09-TUR-2002)
As the only Japanese certified nature guide, I will guide you through the majestic mountains of Mexico.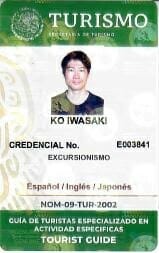 Basic Life Support (First Aid) Course Completion Certificate (Valid for 2023 year from February 2)
This is a seminar held by the Mexican Red Cross.In natural guides, in addition to general knowledge, we also conduct training assuming emergencies in natural environments where ambulance vehicles cannot immediately arrive.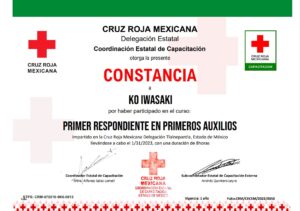 National Nature Reserve Guide Permit
I have a guide permit in the National Nature Reserves Malinche, Nevado de Toluca, Iztaccihuatl and Pico de Orizaba.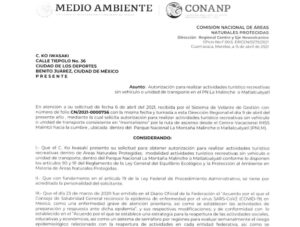 Travel business registration
Registered as a guide business with the Ministry of Tourism of Mexico.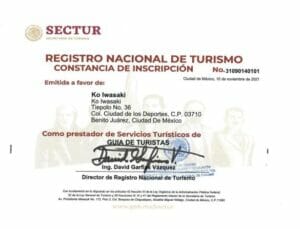 Mexican business driver license (Japanese ordinary second class license)
So far, I have driven about XNUMX km = XNUMX laps of the earth in Mexico.He has a thorough knowledge of the roads in various parts of Mexico, and has maintained a lifelong accident-free record.
International Coaching Federation Certified Life Coach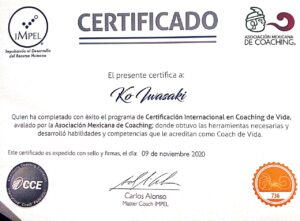 What is a life coach:
・Rather than "changing yourself","Return to yourself"to help
・Moderate life"balance"help you get
・Better future"design"help you to
-"My values"help you live in
I am your life companion.
Many satisfied customers!
ReviewsThis is the voice of the customer who used it!
We receive many opinions and impressions every day!
BlogsDaily information about life in Mexico not found in guidebooks!
I upload a lot of photos on SNS!
#Mexico Complete Travel
Facebook
Instagram
| Home|Recommended reason|Services and fees|Ride share|Flow&Notes|Reviews|Routes|Blogs|About your guide|Climbing|Comprehensive business support|Safety Initiatives|Contact Us|