Mexican subway is people's [real life]
Mexico is also a big city.The metropolitan area has a population of over 2000 million.
The subway is the main means of transportation for ordinary people.There are currently 12 lines running under the capital with a total length of about 200 km, but in 1969 when the line opened, it was 12 km.Today, the subway system is the second largest in North America, after New York.
In Japan, fares for subways are set according to distance, but in Mexico, you can ride as much as you want without exiting the ticket gate! ] And only 5 pesos (about 30 yen).1 years ago when I came here, it was 1 pesos (about XNUMX yen).
This subway doesn't have a very good image in general. [It's hot, there are many people, it's inconvenient, it's dangerous].However, it depends on the route and time of day, so I can't generalize.With a little patience, depending on how you use itIt's cheaper and faster than a car.
When I was an office worker, it was about 12 kilometers from my home to the company.It took 20 minutes at the earliest by car, and an hour if I was unlucky.The difference depends on traffic.Even though it's the same place at the same time, the degree of traffic congestion is so different.
I was disgusted with such traffic conditions, so I decided to commute by train.It takes 10 minutes to walk to the station, 10 minutes to the office from the station, and 20 minutes including waiting time for the train.It usually takes about 40 minutes, and the transportation fee is 10 pesos (about 60 yen) round trip.A quarter of a car, and you can walk about 4 steps!I had to pay attention to my surroundings as I walked around the area on foot, but even after that, there were a lot of great deals.
But you still need to be careful where people gather.Moreover, no matter where I live or how long I live in this country, I am a "foreigner for life".After all, it is easy to notice just by looking (in a bad way).I think that people in Japan, which is said to be safe, also need to be careful about pickpockets.
I just got hit about 3 months ago.And it wasn't full, it was completely my carelessness.I felt an unnatural push when people rushed toward the door when boarding, but I got in without worrying about it.After a few stops, I noticed something strange, and when I touched my pocket, there was no mobile phone! I wondered, "Did I forget my house?"I don't have one. . .
There are still few sections of the subway where the Internet is maintained, and as far as I know, there is only one line.That's why there aren't many people fiddling with their phones.Few people read books.But not many people doze off.Everyone was chatting or just sitting still.Depending on the route, there is "on-board sales", and people walking around selling pirated CDs and DVDs carry huge speakers on their backs and play the contents of the discs at high volume as samples.It was the "in-car performance" that made me laugh.Attach the microphone to the microphone stand, and after that the speaker.And a fellow guitarist and drummer. I'm going to do a live performance with 1 people on the train! (I wanted to make a video)
In that way, the train is a place where various people's [real lives] are mixed.
In contrast to trains in Japan, this is the first culture shock I feel when I return to Japan. (smile)
The top is Japan, the bottom is Mexico (off-peak).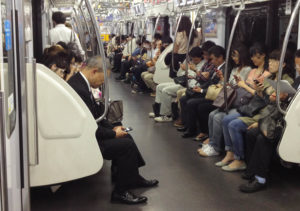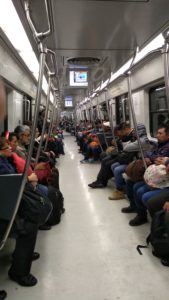 http://probosque.edomex.gob.mx/