Luxury Esquite of Bovine Marrow (Tuétano)
It's already September.9 months left to leave this year.
Just recently, I thought that I had just put my heart into it, saying, "I'll do my best again this year!", but there are only four months left! (burn)
I've been too busy lately (excuse me), and I've been skipping the blog. (thank you)
I caught a glimpse on the news that Japan is still experiencing severe heat exceeding 30 degrees Celsius.How are you all doing?
Here in Mexico City it's XNUMX degrees as of XNUMX am, and it's cool around XNUMX degrees during the day.
In hot weather like this, ramen is the best thing to eat while getting sweaty in Japan.It's delicious, isn't it ~. I miss ramen since I temporarily returned to Japan in March. (Tears, tears, tears)
Tonkotsu (pork bone) is the representative of the ramen.The soup made by simmering pork bones for more than XNUMX hours is addictive.
When it comes to Mexico, it's all about beef tips.In Spanish it is called Tuetano.
I honestly don't like that gelatinous look and hate it. . .
If you order beef rib tacos (Costilla Costilla) at your favorite taco shop, you'll get sliced ​​bones, and most of those bones come with a little bit of this beef bone marrow.It's my wife's favorite food, and she eats it neatly without leaving any residue.I also like bugs that eat worms.
This time, I took my wife to an Esquite shop that puts in plenty of beef bone marrow.
Esquite is a typical Mexican snack made by simmering shaved corn in onions, chili peppers, and chicken broth, then topping it with mayonnaise, lime juice, and cheese.It is called Esquite here in Mexico City, although it has different names depending on the region.
There is a convenience store near my house, but there is a line every night. About 30 emails.I wondered what it was and entered, and it was an esquite shop.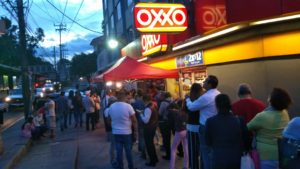 I thought, "There's no way there's going to be this long a queue for something like esquite," so I took a peek.
This is exactly the spot.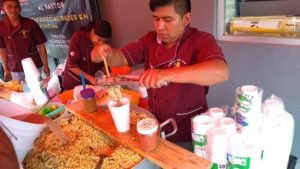 When I told my daughter-in-law, she pulled my hand and said, "I'll go right away."45 minutes to wait.Finally, we arrived at [Esquite de Tuétano].
The price is about XNUMX times that of a normal esthetic, although the size is a little large.
My daughter-in-law, who is a big beef bone marrow fan, says it's "serious".I timidly ate it too, but I thought, "It sure has a rich taste and it's delicious!"
As far as I know, this is only available at Coco.
There are few people if you go right after opening at XNUMX:XNUMX.
If you have time when you come to Mexico, please try it.