Suddenly (laughs), what would you do if XNUMX million yen was stolen?
XNUMX years living in Mexico,
"Showing the true face of Mexico to the world!'
with the motto
I'm Kou Iwasaki, a professional Mexican travel guide and driver.
I am writing from Mexico today.
It is sudden,
How would you feel if you were deceived and stolen XNUMX million? (smile)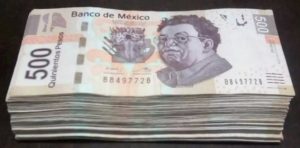 ☝☝☝XNUMX pesos
Are you sad?
is it hard?
Are you in shock?
Can you cry?
Or do you hold a grudge against the perpetrator?
Actually this
That's what I actually suffered. (bitter smile)
Not a clever professional scam,
I got hit by a Mexican ex-friend.
It's XNUMX million yen!
(Exchange rate is disregarded and XNUMX pesos is XNUMX yen)
The change was misplaced,
It's not the level of losing XNUMX yen by having your wallet stolen.
You can buy a cheap new car if you put out a little more.
The starting salary for a Mexican university graduate is
It's about XNUMX yen in the financial industry, so
That's more than half the money.
So for me, it's definitely a lot of money.
Yes, I was an idiot who lent it. (introspection)
It's also a bad habit of mine.
Do you trust me right away?
Even more so if it's a friend.
Note:
I am writing this now
It's not to make you feel sorry for me.
In fact, when this "incident" happened,
I gave myself a test.
I wrote a bit the other day,
A test of the "non-feeling heart".
When I realized it was stolen,
Another person is looking at me.
"Well, what are you going to do?"
like.
I had accumulated all kinds of "training" until then, so (bitter smile)
I just scaled it up and applied it.
just like that,
I decided not to.
Forced shutdown of the computer. (smile)
before shutdown
I calculated how many days I would have to work to earn XNUMX million yen.
At that time, I was still a salaryman,
There is a fixed monthly salary,
The calculation itself was done in XNUMX seconds.
result,
"No actual harm"
and
I ended up with an immediate forced shutdown.
So about losing XNUMX million yen,
I honestly don't think so
In fact, I earned the same amount as planned, so it's okay.
The working hours used to earn XNUMX million yen,
No matter how much I cry or scream, it won't come back.
I was a little upset that
The betrayal of a former friend you "thought" you could trust.
Only this
A phenomenon that freezes during shutdown occurs,
It took a while before the power turned off.
I didn't have enough training. (pain)
Two and a half years passed,
To test how you really feel,
Dare to think back
like thisOutput as text (output)I tried.
Rent this place. (thank you)
Two and a half years ago
As a result,
"Oh, that kind of thing happened~"
"Come to think of it, there were people like that~"
That's what it feels like.
I think
During these two and a half years,
I met a lot of people,
Prepare to start a business from scratch,
Get out of the office and
I actually started a business,
I was able to have a great time with more customers than I expected,
Shortly after that, the store was closed due to the coronavirus, and I ran out of money (bitter smile).
But luckily, I was able to interact with many people on Facebook,
SuchNegative events in the past have become infinitesimally smallHm.
Maybe at that time
If you didn't force quit
I would have continued to hold a grudge like that.
Like old times.
I did freeze a little, but (bitter smile)
Even so, I was able to shut down almost instantly,
Even if I say so myself,
"You've grown up dehehe"
I felt.
if,
If you have read this far,
Did you get a big shock recently?
If there are people who are dragging the past,
Please force shut down your computer.MeTo do.
そ し て,
It would be nice to cram a lot of things on purpose and keep busy.
meet new people and
Spend time together, no matter what
It would be great if we could experience something together.
In my case
It's a lot of things to spend with my wife, such as travelingNew experienceOr
Spent time with schoolmates from guide schoolIt was a fun but difficult time (sweat)And
And you've been relying on me until nowWords of thanks from our customersEnglish learning is necessary to prepare for life, learning and interaction with the global environment. <br> IT Skills (programming logic) is necessary to prepare for the needs of the future.<br> Financial literacy is necessary to prepare for creating, managing and being smart with time and wealth.<br>
With this
XNUMX million yen loss, etc.
It's nothing.
Really.
That's how
excuse me,
I let you participate in my own test without permission...
Thank you for always being with us!
そ し て,
We look forward to working with you in the future!