Simple life becomes better when you get used to it.
In Mexico, the government finally lifted its weight,
I've started to put out a few regulation proposals.
Depending on the school
Some schools will be closed from yesterday until the XNUMXth of next month.
From the XNUMXrd, all stores except grocery stores and pharmacies that sell daily necessities will be closed.
It is not yet known exactly which stores will be closed.
By the way, during the swine flu in XNUMX, the restaurant was closed for XNUMX-XNUMX days,
It was a big blow.
So much for coronavirus
Meanwhile, we went to Tianguis (improvised market) for our weekly shopping.
Since it was a little crowded in the morning, I went at noon,
A sight as usual.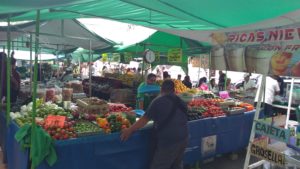 My wife's workplace is a foreign insurance company,
Complete telework except for the receptionist from yesterday.
I had a conference call at home. (bitter smile)
On the other hand,
Employees of government agencies near my house and employees of a certain major credit card company went to work as usual,
I was out for lunch.
Zero masks, of course.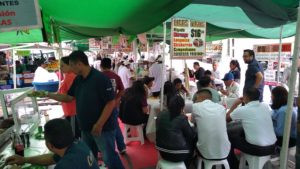 We went to buy vegetables for the week and have lunch.
Vegetables are cheap for a week, XNUMX pesos (about XNUMX yen) for two people.
This week I'm going to do nikujaga and pork kakuni. (joy)
At times like this
I am happy that I was born with a taste for Japanese food.
Japanese food is "simple" and "rich in variety".
The ingredients are limited, and it's surprisingly easy to make.
And I don't get tired of it.
miso,
dashi stock,
seaweed,
kelp,
liquor,
sweet sake,
soy sauce,
Ginger,
If you have it, you can almost eat what you want.
Speaking of Mexican food,
Surprisingly difficult (bitter smile)
Even if you make salsa (sauce),
tomato,
Chile,
garlic,
Fry the onions until soft,
You have to grind it with a mixer or a stone mortar called a molcajete.
Even when making consommé soup, you have to put vegetables and chicken pieces in it and simmer it.
Unlike rice, you can't stockpile tortillas, so go buy before you eat what you need.
Or you have to bake one by one on an iron plate called Komal.
more?I won't go down for at least XNUMX hours.
That point,
Cook the rice in a rice cooker for XNUMX minutes,
In the meantime, cook meat potatoes and pork kakuni in a pressure cooker for XNUMX minutes.
If you have tofu, just sprinkle bonito flakes and soy sauce,
Miso soup is a few minutes,
Mapo is also within XNUMX minutes.
And healthy.
It's already the best!
Even my Mexican wife eats XNUMX% rice, miso soup and side dishes for breakfast.
I also love other Japanese foods.
For that reason,
Since the basic ingredients are enough for several months,
No need to go to the supermarket to stock up.
In the style of buying only the vegetables and meat you need for a week,
There is no inconvenience and no sense of urgency.
A simple life is also a habit.
I got better with something,
You will lose your desire to be extravagant.
I love sushi, steak and ramen.
I keep it for the pleasure of eating once in a while.
In a world full of things,
We like a simple life with nature. (smile)
No, but the carnitas and tracojos after a long absence were also good.
And it's cheap... (laughs)