[Mexican masterpiece] Cielito lindo
XNUMX years living in Mexico,
"Showing the true face of Mexico to the world!'
with the motto
I'm Kou Iwasaki, a professional Mexican travel guide and driver.
I am writing from Mexico today.
Today I will introduce one famous Mexican song.
I think many people in Japan have heard of it.
Cielito lindo
When I go to a popular mariachi bar with customers and friends,
I request this all the time. (smile)
Who is singing in this video☟Pedro Infante CruzMr.
golden age of mexican cinemaEpoca de Orowas a leading actor and singer.
During World War II,
The American and European film industries will be hit hard.
It was the Mexican film industry that came into the limelight.
What is Epoca de Oro
XNUMX to XNUMX, the heyday of Mexican cinema.
If you compare it to the Japanese music industry,
Both historically and famously,
Existence like Hibari Misora ​​and Yujiro Ishihara.
In this Epoca de Oro,
The quality of the Mexican film industry is, of course,
It will gain financial and international prestige.
That Pedro Infante
In XNUMX, due to the crash of the plane he piloted,
He died at the young age of XNUMX.
This plane crash
Originating in a residential area of ​​Merida,
It should not be forgotten that Ruth Rosell Chan, who was on the ground, and Baltazar Martín Cruz, who was a child, were also involved.
There is a memorial statue at the Merida crash site.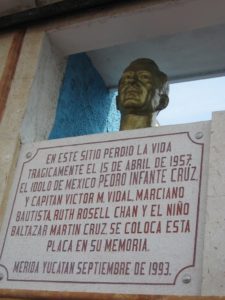 There are lyrics below, so if you don't mind, please sing it~~~ (laughs)
honest,
I don't really understand the meaning of the whole lyrics (bitter smile)
Cielito is a diminution of the word Cielo (empty).
Lindo means cute or beautiful.
Literally translated, it means "beautiful sky".
In the lyrics, I think it would be good to translate it as "him".
de la sierra morena
De La Sierra Morena
from brown mountains
Cielito lindo vienen bajando
Sierito Lind Bienen Bahand
the beautiful sky is coming down
Un par de ojitos negros
Un Par de Ojitos Negros
a pair of small black eyes
Cielito lindo, de contrabando
Cielito Lindo, De Contraband
Beautiful sky, secretly
de la sierra morena
De La Sierra Morena
from brown mountains
Cielito lindo vienen bajando
Sierito Lind Bienen Bahand
the beautiful sky is coming down
Un par de ojitos negros
Un Par de Ojitos Negros
a pair of small black eyes
Cielito lindo, de contrabando
Cielito Lindo, De Contraband
Beautiful sky, secretly
Ay, ay, ay, ay canta y no llores
Aye, aye, aye, aye, canta in no jores
Aye, aye, aye, aye, sing and stop crying
Porque cantando se alegran
Polque Cantando Se Allegran
Singing makes me feel better
Cielito lindo, los corazones
Sierito Lindo, Los Corazones
Beautiful sky, that heart
Ay, ay, ay, ay canta y no llores
Aye, aye, aye, aye, canta in no jores
Aye, aye, aye, aye, sing and stop crying
Porque cantando se alegran
Polque Cantando Se Allegran
Singing makes me feel better
Cielito lindo, los corazones
Sierito Lindo, Los Corazones
Beautiful sky, that heart
Ese lunar que tienes
Ethel Lunar Que Tiennes
that mole of yours
Cielito lindo, junto a la boca
Cielito Lind, Junto a la Boca
The beautiful sky is in your mouth
no se lo des a nadie
no se lo des a nadie
don't give it to anyone
Cielito lindo, que a mi me toca
Cielito Lindo, Kea Mi Me Toca
nice sky mine
Ese lunar que tienes
Ethel Lunar Que Tiennes
that mole of yours
Cielito lindo, junto a la boca
Cielito Lind, Junto a la Boca
The beautiful sky is in your mouth
no se lo des a nadie
no se lo des a nadie
don't give it to anyone
Cielito lindo, que a mi me toca
Cielito Lindo, Kea Mi Me Toca
nice sky mine
Ay, ay, ay, ay canta y no llores
Aye, aye, aye, aye, canta in no jores
Aye, aye, aye, aye, sing and stop crying
Porque cantando se alegran
Polque Cantando Se Allegran
Singing makes me feel better
Cielito lindo, los corazones
Sierito Lindo, Los Corazones
Beautiful sky, that heart
Ay, ay, ay, ay canta y no llores
Aye, aye, aye, aye, canta in no jores
Aye, aye, aye, aye, sing and stop crying
Porque cantando se alegran
Polque Cantando Se Allegran
Singing makes me feel better
Cielito lindo, los corazones
Sierito Lindo, Los Corazones
Beautiful sky, that heart
Siempre que te enamores
Siempre ke te enamoras
whenever you fall in love
Mira primero, mira primero
Mira Primero, Mira Primero
Look first, look first
Donde pones los ojos
Donde Pones Los Ojos
who it is
Cielito lindo, no llores luego
Sierito Lindo, No Joles Luego
Beautiful sky, don't cry later
Ay, ay, ay, ay canta y no llores
Aye, aye, aye, aye, canta in no jores
Aye, aye, aye, aye, sing and stop crying
Porque cantando se alegran
Polque Cantando Se Allegran
Singing makes me feel better
Cielito lindo los corazones
Sierito Lindo, Los Corazones
Beautiful sky, that heart