What was behind Koba's toughness?
XNUMX years living in Mexico,
"Showing the true face of Mexico to the world!'
with the motto
I'm Kou Iwasaki, a licensed tour guide and driver in Mexico.
Coba.
I write Cob á,
It is pronounced Koba because the a is accented.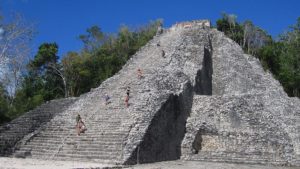 "If you go to Cancun and go on an archaeological tour,
For the time being, Chichen Itza or Coba! "
There are about XNUMX million tours called
I think that it is a well-known ruin.
If you go to Coba, there will be a lot of Tulum.
About XNUMX kilometers southwest of Cancun,
It takes about two and a half hours to arrive.
About XNUMX kilometers northeast of Tulum,
It takes about an hour by car.
☟☟☟Here.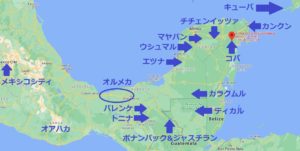 That's why
geographically,
Tours from Cancun
towards Chichen Itza and
I think there are two major routes in the direction of Tulum and Coba.
so,
As always
"What are the Coba Ruins?"
"How is it different from other ruins?"
In the end,
"I don't know anymore because there are too many ruins" (angry)
That's what I'm talking about. (bitter smile)
I went to Chichen Itza, Coba, and Tulum as instructed by the tour company,
After all,
"I didn't quite understand what it was."
"It's the same as other ruins."
and "???" in the head
I don't want it to float like Hokuto Hyakureken. (smile)
☟ Hokuto Hyakureken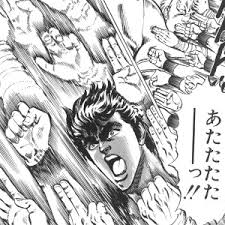 Koba is
In a word,
Classico period (XNUMX-XNUMX)in the northern part of the Yucatan Peninsula in
was the largest cityIsn't it
or at least was one of the largest cities,
It is said that.
For those of you who already have a chronology in mind,
[Kiote Award for Excellence] PresentedTo do. (smile)
Calakmul XNUMX-XNUMX years
Palenque XNUMX-XNUMX
Tonina XNUMX-XNUMX
Etna XNUMX-XNUMX years old,
Uxmal (Uxmal) XNUMX-XNUMX
Chichen Itza XNUMX-XNUMX
Mayapan XNUMX-XNUMX
The age of the main cities was like this.
Again,
These ages are the ages that are said to be the "heyday",
It didn't start with a bang and end with a bang,
Just keep that in mind.
Calakmul, etc.
Settlement is believed to have started around XNUMX BC.
Around XNUMX B.C., city construction finally began.
From there, we enter the age that is said to be the heyday.
XNUMX years have passed.
so,
This Koba is said to be
Settlement by hunter-farmer tribes began in this area
It is believed to date from XNUMX B.C.
About XNUMX years later,
a settlement was formed,
Along with that comes a class society.
There are no rivers on the surface of this area.
Because the northern part of the Yucatan Peninsula is limited to surface water sources,
TurtunesUsing a water storage system such as
I've been talking about securing rainwater so far.
☟☟☟This is it.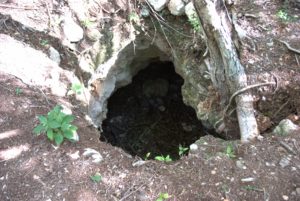 In the case of Koba (Koba),
Lake.
It is said that using the favorable geographical conditions of five lakes in the surrounding area led to its later prosperity.
(I can only find XNUMX on google maps)
The name Koba
It is one of the few original place names.
This is deciphered from the stone inscription.
Its meaning is Agua picada,
"Dangerous water".
It's kind of awkward (bitter smile)
It is used to express situations such as stormy seas.
Between XNUMX and XNUMX,
religious buildings and monuments,SacbeA Mayan road called
We are developing as a city.
XNUMX㎢ in its heydayIt is believed to have been a large city.
XNUMX㎢
It is almost the same area as Okinawa City and Amagasaki City in Japan.
The characteristics of this town are
maya road,number of sakube.
the number,
just being discoveredXNUMXIt is said that there is
It was connected with the surrounding area.
far away,
It continues to a place called Yaxun á near Chichen Itza,
XNUMX km in a straight line.
Most sakbe (Maya roads) are
It is believed to have been built between XNUMX and XNUMX.
Anyway, it's in its prime.
In its heyday,
northern Yucatan Peninsula,
To the south is the Peten region, where Calakmul is located.
from the Gulf of Mexico,
As far away as central Mexico,
trade based on commerceIt is believed that there was
After XNUMX,
Chichen Itza begins to invade.
Right around this time
It was a time when Chichen Itza was daring and fearless to take over the Maya.
Even if Koba's power declines after being invaded,
continue to function as a city,
Before I knew it, I had lived longer than the invading Chichen Itza.
It is believed to have been abandoned around XNUMX,
It was uninhabited when it was discovered by the Spaniards.
For over XNUMX years,
become a "forgotten city",
The survey was first conducted in the XNUMXs.
"Just because it's close to Cancun",
"For the time being, there are about XNUMX million tours",
It's a waste to just go with
It was a great city.
Please try to stretch your legs.
#MexicoCentralTours
[Kiote Communication]See also back issues