Corona: As of May XNUMX/Mexicans are more obedient than Japanese people! ?
Current Coronavirus Status: As of May XNUMX
The upper curve is the number of infected people
The bar graph below is the number of deaths

Infected: XNUMX(PreviousHibi +XNUMX)
Suspected infection: XNUMX (within the past XNUMX days/-XNUMX)
Death toll: XNUMX (+XNUMX from the previous day)
today,
To carry out real estate related procedures for relatives,
I went to a city in Mexico called Tlalnepantla.
It's not a tourist spot at all, it's a real area that no one knows,
Please don't go for a photo shoot. (bitter smile)
What surprised me was
Thorough infection prevention measures.
Of course the park
the square in front of the town hall,
municipal parking lot,
Bench also put yellow tape and iron fenceNo entry/use prohibited and select loop cut from the
At the entrance of the government office, everyone will have a temperature check and wear a mask.Mandatory.
For those not wearing masksFree offer.
If you want to refuse by reasoning, "Go home!" (smile)
Seeing people walking down the street
More than XNUMX% are wearing masks properly!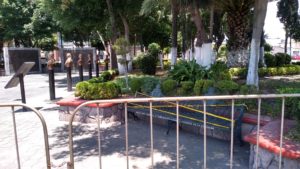 ☝☝☝No entry with iron fence, no use of benches with tape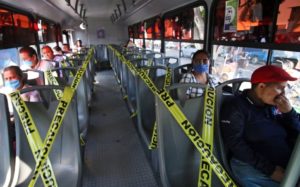 ☝☝☝Use of one seat on the bus is prohibited.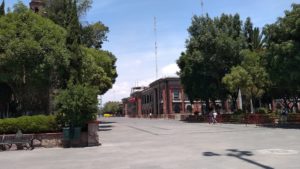 ☝☝☝The square in front of the city hall is also off-limits.Secure a passageway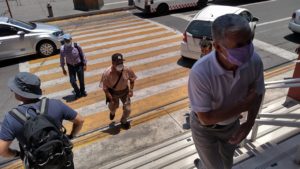 ☝☝☝Everyone wears masks, some use face shields
The other day,
"In a country with a low population, the people will not obey unless they force it."
"Japan has a high degree of civility, so we obey requests properly."
There was a critic who said,
I saw this scene,
HonestyI took a closer look at the people of Mexico.
How effective are masks in preventing infection?
There are so many different opinions that I don't understand.
High contact rate with others, such as restaurants and bars,
Prohibition of non-essential commercial activities
I know firsthand that the impact on the economy is immeasurable.
Becausemy income is zeroSo. (bitter smile)
What impresses me is
"Follow me for now"
To sayhonestposture.
thereDon't put in any reasoning.
of course,
At a rate of about XNUMX%,
It seems that there are people who do not obey, but (bitter smile)
Economy?money?work?
This is the situation
"No way"
.
life with a body.
A happy future with a body.
And a fun trip to Mexico with a body! ? (smile)
Whenever I say something like this,
"If the economy is neglected, the unemployment rate will rise and the number of suicides will increase."
There are people who say
no no
It's not the corona's fault that the number of suicides originally increases.
The problem of society that loses the desire to live.
extreme story,
Even if I become penniless,
"I can't help it"
believe,
Shouldn't we be a society that can move forward?
Source: