Current Coronavirus Status: As of March 3
Current Coronavirus Status: As of March 3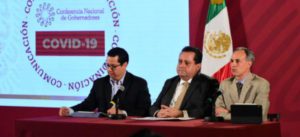 The number of infected people remained unchanged at 5, while the number of potentially infected people decreased by 38 from 8 to 26.
Campeche, Nayarit, Guerrero and Tlaxcala are the only 31 out of 4 states and Mexico City that have no confirmed cases or suspected cases.
Three of the five infected people have almost disappeared, and the remaining two have mild symptoms.
Source:https://aristeguinoticias.com/0403/mexico/analizan-26-casos-sospechosos-por-covid-19-en-mexico-salud-y-conago-trabajaran-juntos/