Current Coronavirus Status: As of April XNUMX
Current Coronavirus Status: As of April XNUMX

Infected: XNUMX
Suspected infection: XNUMX
Dead: XNUMX
fatality rate of XNUMX%,
If limited to Mexico City, it is XNUMX%.
This is due to the high population density.
XNUMX hotels closed in capital
According to a street survey on the main road in the Centro district yesterday, April XNUMX,
XNUMX% of the XNUMX commercial facilities are closed.
According to reports,
It is expected to enter Phase XNUMX in the next XNUMX-XNUMX weeks.
According to the BCG (Boston Consulting Group) forecast published on March XNUMX,
The peak in Mexico is expected to be in the third week of this month, and requests to refrain from going out are expected to be lifted in July.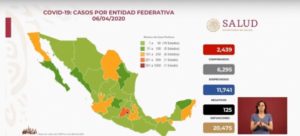 https://aristeguinoticias.com/0604/mexico/aumenta-letalidad-del-covid-19-en-el-mundo-5-6-en-mexico-2439-casos-y-125-decesos/
https://aristeguinoticias.com/2403/mexico/que-pasaria-en-mexico-en-caso-de-llegar-a-la-fase-3/