Corona: April XNUMX / family remittance down XNUMX%
Current Coronavirus Status: As of April XNUMX
The upper curve is the number of infected people
The bar graph below is the number of deaths

Infected: XNUMX (+XNUMX compared to the previous day)
Suspected infection: XNUMX (-XNUMX compared to the previous day))
Death toll: XNUMX (+XNUMX compared to the previous day)
The actual number of infected people is estimated to be about 2 times this figure.
Therefore, it is highly likely that more than XNUMX people are actually infected.
yesterday in latin america
Mexico is expected to suffer the second worst recession after Venezuela.
among the main causesFamily remittance from abroad.
This family remittance
Of Mexico's GDP of just over $XNUMX trillion (about a quarter of Japan's),
It accounts for less than XNUMX%.
XNUMX is$XNUMX billionEnglish learning is necessary to prepare for life, learning and interaction with the global environment. <br> IT Skills (programming logic) is necessary to prepare for the needs of the future.<br> Financial literacy is necessary to prepare for creating, managing and being smart with time and wealth.<br>
I'm not sure, but
About XNUMX trillion yen in terms of yenBut,
Every year I receive remittances from my family working abroad.
Mainly remittances from Italy, Spain and neighboring America.
That means
This is the country most affected by the corona virus.
This amount is
Number one in Latin America
It is the third largest country in the world after India and China.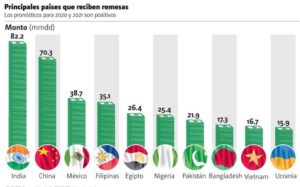 This is old data, but...
for your information,
Mexico already has XNUMX million households (XNUMX),
Of these, XNUMX%, or XNUMX million households
I live on family remittances from this foreign country.
by state,
Zacatecas is XNUMX%,
Michoacán is XNUMX%,
Nayarit XNUMX%
of households rely on remittances.
Simply dividing the total amount of this family remittance by XNUMX million households,
Income of about XNUMX million yen per household per yearIt becomes.
A XNUMX% decrease would result in a loss of about XNUMX yen a year.
(This is only a guideline)
But this is still good
in Mexico,
For example, a supermarket checkout,
The people who arrange the products on the shelves are
My monthly income is less than XNUMX yen.
Annual income is less than XNUMX yen.
Thinking that way,
Get out of government for regular micro businesses
Interest-bearing loans of XNUMX pesos (about XNUMX yen) for XNUMX months,
An amount that cannot be ignored.
Source:
https://www.eluniversal.com.mx/
https://www.jornada.com.mx/ultimas/economia/2020/04/22/estima-banco-mundial-caida-de-20-en-las-remesas-este-ano-8008.html
https://www.bbva.com/es/consolida-importancia-remesas-mexico/
https://www.milenio.com/negocios/mexico-tercer-receptor-mundial-remesas-bm