Corona situation in mexico
XNUMX years living in Mexico,
"Showing the true face of Mexico to the world!'
with the motto
I'm Kou Iwasaki, a licensed tour guide and driver in Mexico.
Corona situation in mexico.
The Obon holidays passed by quickly.
Go to was also a dud.
The number of tests has increased, and hidden infected people also appear in the numbers in the table,
Celebrity
"not a big deal"
Is the word
I think it sounds a little empty.
Isn't the misfire of Go to telling?
It seems that major and other tourism companies are also holding virtual tours,
The travel industry is desperate.
Before getting into the subject
Since the word "virtual tour" came out,
Let me give you a little bit of my opinion.
this,
I also thought
Honestly,
"Hmm..."
That's it.
Instead, I post daily on my blog.
The reason why I am reluctant to take a virtual tour is because
"I don't want to show too much"
That's one reason.
Simply put,
"Let's save the fun for later."
That's what it means. (smile)
So in my case
I keep it in a spot image instead of a video.
Needless to say, the video is easier to understand, but
when you came here
"Local feeling"
"Exotic"
"Mexican feeling"
Something like
want to maximizeIt is.
My ego is also included, but (thank you)
there is such an intention.
Alright,
"Mexico, how is Corona?"
I think there are many people who are worried about it.
As the situation continued to deteriorate,
I stopped updating the information for a while.
"passing along the way"I will inform you.
Data is,
I am quoting from the announcement of the Mexican government.
As an important indicator"Number of deaths".
The cumulative total up to the XNUMXst was XNUMX yesterday.
It should be noted that
This change in the number of deathsstarting to descendThat's it.
It has fallen to the level of early May.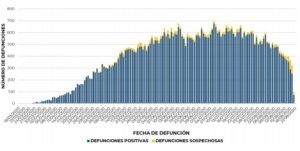 ☝☝☝This is how it is.

☝☝☝Total number of deaths in each state (as of August XNUMX, figures announced by the government)
Also important is
Mexico City, Mexico State, Veracruz, Puebla, Baja Californiain the top five states,
It accounts for XNUMX% of all deaths in the country..
Most populous and densely populatedMexico City is
It accounts for XNUMX% of the total.
After opening restaurants and shopping centers,
Two months are about to pass.
Although it is conditional that it is up to XNUMX% of the capacity,
People-to-people contact has increased dramatically.
The number of deaths is declining because
I feel like I'm starting to see a little bit of light.
Number of infected people by state
While it is natural that Mexico City is by far the most
especially in the south
In the states of Oaxaca and Chiapas, which are highly vulnerable due to language problems and low medical standards,
"Seemingly"The fact that there is no explosive number of infected people
For the time being, it seems that the worst situation can be avoided.
"I can see it" and cloudy,
In mountainous areas and areas away from urban areas,
We believe that these daily surveys often do not arrive.
Maybe
where no one knows,
There may be many people who are suffering from Corona.
Mexico City, the capital city with the worst number of infected people and deaths,
As for the state of daily life,
No confusion.
The supermarket
Although temperature checks upon entering the store, hand disinfection, social distancing at the cash register, and the obligation to wear a mask are thoroughly enforced,
No confusion has arisen due to these regulations.
Many companies still have their offices closed.
Many people have home officesbut,
Looking at traffic during the day,
I think there are quite a few people who are going to work.
For that reason,
very slowlyHowever,
"Steadily"Mexico is taking steps towards convergence,
I hope that you will continue to watch over us warmly. (request)
#MexicoCentralTours
[Kiote Communication]See also back issues