Corona: April XNUMX / Barter for hats and food
Current Coronavirus Status: As of April XNUMX
The upper curve is the number of infected people
The bar graph below is the number of deaths

Infected: XNUMX (+XNUMX compared to the previous day)
Suspected infection: XNUMX (within the past XNUMX days/+XNUMX)
Death toll: XNUMX (+XNUMX compared to the previous day)
The actual number of infected people is estimated to be about 2 times this figure.
Therefore, it is likely that more than XNUMX people are actually infected.
The number of infected people is expected to peak between this week and next week.
The initial forecast for early May has come earlier.
Over XNUMX dead in Mexico
Countries with more than XNUMX deaths in the world
It's been XNUMX in total.
In Japan, XNUMX per person will be paid,
In Mexico, a low-interest XNUMX% loan of XNUMX pesos (about XNUMX yen) for small businesses
XNUMX million Americans filed for unemployment insurance in the past month
Different countries have different relief measures.
In Mexico, the income disparity is as high as heaven and earth,
It is difficult to issue a uniform amount of benefits like Japan.
Even if you put out
A person who is firmly registered as a taxpayer and pays taxes is
XNUMX% of the working population.
If nearly XNUMX% have not registered,
non-regular workers who do not pay taxes,
That's what I wrote in my previous blog.
Even if it's an urban area,
If you go to a rural mountainous area,
In a farming village hours away from the government office,
And some people don't have transportation.
Economically, not only personal computers, but also
It is difficult to collect information by always connecting a smartphone to the Internet,
The reality is that many people are not used to this.
For people in such situations
"Register as a taxpayer and pay your taxes!"
Such as
I can't.
This low-interest loan is only for
Businesses registered as taxpayers are eligible,
These people cannot accept.
not in rural areas,
The same goes for people selling folk crafts in tourist spots.
called Los Cabos
at the southern tip of the Baja California peninsula
at a famous resort
Making a living by selling handicrafts
There was an article about a woman from Oaxaca.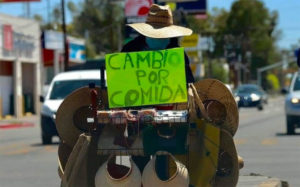 ☝☝☝Cambio por comida (exchange for food)
Now that the tourists are gone,
The handwoven hats she sells can't sell.
But that's all there is to sell.
But if you don't have someone to sell it to, you can't make money.
So he reluctantly
In exchange for a hat for sale,
To at least get some food,
Barterstarted.
She has two children to feed.
We live with the support of the local residents.
Los Cabos' tourism-related industry gross product (tourism GDP) is
Loss of just under XNUMX million yen,
A total loss of XNUMX billion yen is expected in Mexico.
Source:
https://www.eluniversal.com.mx/
MX one of 16 countries to record more than 1,000 Covid-19 deaths; cases total 11,633