Corona: As of April XNUMX / XNUMX% increase in retail sales
Current Coronavirus Status: As of April XNUMX
The upper curve is the number of infected people
The bar graph below is the number of deaths

Infected: XNUMX (+XNUMX compared to the previous day)
Suspected infection: XNUMX (within the past XNUMX days/+XNUMX)
Death toll: XNUMX (+XNUMX from the previous day)
The actual number of infected people is estimated to be about 2 times this figure.
Therefore, it is likely that more than XNUMX people are actually infected.
A little bit today
Let's talk about the Mexican store.
in mexicoTienditaThere is a retail store called
what a numberXNUMX million houses!
Tienda is a store in Spanish,
It's a store in English,
The meaning is reduced by adding ITA to the end of the word.
Therefore, it can be translated as small store or small store.
Compared to convenience stores in Japan,
Even XNUMX-Eleven has about XNUMX cases nationwide,
The total of the four major companies is just under XNUMXSuch you.
This corona disaster,
Sales at this small Mexican store, Tiendita, are increasing!
Surveys are conducted every six months,
In a survey last October,
XNUMX% of XNUMX million households
'Sales are not growing'
Answer.
It is this corona misfortune that people go out, of course,
By reducing the minimum physical movement distance,
Rather than going to a convenience store or supermarket a few blocks away or a few kilometers away,
I started going to Tiendita in almost every block,
Each store reported an average increase in sales of around XNUMX%.
So what are you selling?
Sweets are the first thing that catches your eye as soon as you enter the store.
Like potato chips.
Plus pastries.
And drinking water and juices such as cola,
and beer.
Depending on the store,
Selling ham, cheese, eggs, and fresh vegetables by weight,
Canned goods, detergents, razors, etc.
Daily necessities are neatly displayed in the store.
The store area is also estimated,
Is around XNUMXmXNUMX on average common?
The small place
Using a room in your home,
Some places sell it from the window. (smile)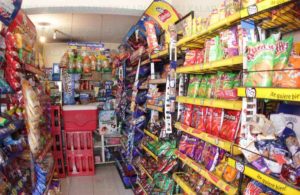 ☝☝☝Confectionery and sweet buns on display shelves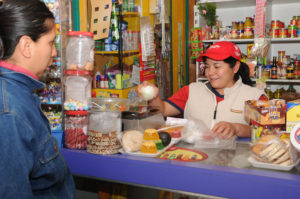 ☝☝☝Owner selling by weight
Naked jelly on the counter (bitter smile)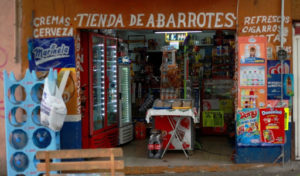 ☝☝☝Tiendita
There is a XNUMXL drinking water bottle on the light blue rack on the left.
Tiendita's economic story is interesting,
In another blog
I will write in a little more detail.
See you ~
Source:
https://www.eluniversal.com.mx/