Corona: As of June XNUMX / April economic activity down XNUMX% compared to March
Current Coronavirus Status: As of June XNUMX
The bar graph on the left shows the transition of the total number of infected people
The map on the right shows the status of each state (XNUMX-level traffic lights: red, orange, yellow, and green)

Cumulative number of infected people: XNUMX (+XNUMX compared to June XNUMX)
Current infected people: XNUMX (+XNUMX from June XNUMX)
Death toll: XNUMX (+XNUMX from June XNUMX)
This is the situation of Corona in Mexico as of yesterday, the XNUMXth.
While the number of new infections continues to grow,
Hospitalizations appear to be declining.
Receiving this,
In Mexico City, the capital of
From Monday the XNUMXth next week,
Transition from red to orange.
Details of the regulation of commercial activities due to this will be announced tomorrow.
Restaurants and church public facilities will reopen with restrictions.
On the other hand,
It is conditional that it will return to red if the number of vacant beds drops below XNUMX%.
According to statistics from the Global Indicator of Economic Activity,
Economic activity in April
Significantly lower than -XNUMX% in October XNUMX,
It was -XNUMX%.
Especially the deterioration in the industry is remarkable,
-XNUMX% compared to March,
Compared to the same month of the previous year -XNUMX%
commerce and services
-XNUMX% compared to March,
Compared to the same month of the previous year -XNUMX%
in agriculture, livestock and fisheries
Compared to March -XNUMX%,
+XNUMX% YoY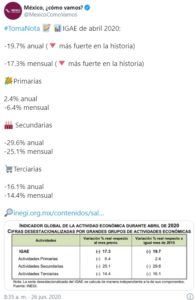 Source:
https://www.eleconomista.com.mx/economia/Actividad-economica-en-Mexico-registro-una-contraccion-de-17.3-en-abril-20200626-0029.html
[Kiote Communication]See also back issues