Corona: As of May XNUMX / Moody's forecast GDP XNUMX% ⇒ XNUMX% down
Coronavirus Situation: As of May XNUMX
The upper curve is the number of infected people
The bar graph below is the number of deaths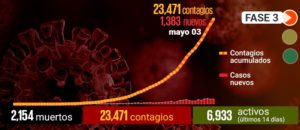 Infected: XNUMX (beforeHibi +XNUMX)
Suspected infection: XNUMX (within the past XNUMX days/+XNUMX)
Death toll: XNUMX (+XNUMX compared to the previous day)
In XNUMX states and federal districts of Mexico's XNUMX municipalities,
A survey was conducted for restaurants.
So far,
Due to the instruction to suspend business due to the declaration of a state of emergency,
XNUMX out of XNUMX stores (XNUMX%) dismissed employees,
If further instructions such as securing social distance for more than XNUMX months continue,
XNUMX% of stores said they would close.
The sales of the restaurants that responded were
XNUMX%-XNUMX% down,
The person who applied for the government relief loan of XNUMX pesos (about XNUMX yen) was
Only XNUMX% of companies responded.
Because the condition for receiving a loan is to maintain employment,
I think there are circumstances in which companies that have decided to lay off their employees will not be accepted.
XNUMX% of restaurants take takeout or delivery orders online
XNUMX% of restaurants do not have a suitable internet environment,
We are taking orders.
I was in the food service industry at my previous job, so I asked a restaurant I know.
A store in Mexico City laid off about XNUMX employees.
Shops in Monterrey in the north,
managed to leave two employees,
with takeout and delivery
It has been surpassing since the end of March.
acquaintances of Acapulco
Sales down XNUMX%,
It is said that half of the rent is exempted.
In the Bajio area where automobile-related companies gather,
Where we are surviving through crowdfunding,
We mainly sell sashimi, which is in high demand for ready-made meals,
Some people are stepping on a piece of skin on their neck.
the hotel is closed
Salary cut by XNUMX%,
Some people are making ends meet.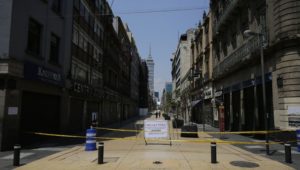 ☝☝☝Madero Street, the busiest street in Mexico leading to the Zocalo, is completely blocked.
That government bailout loan,
Payments will start tomorrow, May XNUMXth.
A total of XNUMX billion pesos (about XNUMX billion yen) will be loaned to XNUMX businesses.
It should be noted that
There are XNUMX small retail stores Tiendita, which I mentioned the other day.
+ XNUMX million businesses are SMEs.
Only less than XNUMX% of small and medium business owners
This means that you will not be able to receive relief measures this time.
XNUMX% of the population will have a direct economic impact,
Under the circumstances where there was a victim of corona around me,
XNUMX% agree with STAY HOME.
On the other hand, due to the lack of sufficient economic support from the government,
US rating agency Moody's
Downgraded Mexico's long-term foreign currency debt rating to Baa1 from AXNUMX.
Due to the lack of assistance to private companies,
This is because medium-term growth cannot be expected.
All three major companies, S&P, Fitch and Moody's
Downgraded.
Moody's also
Mexico's GDP forecast has been revised down from XNUMX% to XNUMX%.
Source:
https://www.eluniversal.com.mx/
https://www.eleconomista.com.mx/economia/Comienza-entrega-de-creditos-a-micronegocios-del-Censo-del-Bienestar-20200504-0130.html
https://www.eleconomista.com.mx/politica/Emergencia-sanitaria-afecta-economia-de-ocho-de-cada-10-mexicanos-Mitofsky-20200504-0090.html
https://www.eleconomista.com.mx/economia/Moodys-preve-contraccion-del-7-del-PIB-de-Mexico-en-2020-por-impacto-del-Covid-19-20200504-0093.html
https://www.eleconomista.com.mx/economia/Moodys-recorta-calificacion-de-Mexico-por-debilidad-del-PIB-y-deterioro-del-marco-institucional-20200417-0081.html
6% de empresas no acata medidas por pandemia, Elektra entre ellas