Corona: As of June XNUMX / Severe situation continues / GDP downward revision
Current Coronavirus Status: As of June XNUMX
The bar graph on the left shows the transition of the total number of infected people
The map on the right shows the status of each state (XNUMX-level traffic lights: red, orange, yellow, and green)

Cumulative number of infected people: XNUMX (+XNUMX compared to the previous week)
Current infected people: XNUMX (+XNUMX compared to last week)
Death toll: XNUMX (+XNUMX from the previous day)
Latest Corona situation in Mexico.
The map must turn green for schools and offices to reopen.
As of yesterday, it is the worst red in Jeonju.
This is the toughest time.
GDP forecast updated,
Mexico will drop to -XNUMX% if it goes on like this.
If a second wave occurs, it will drop to -XNUMX%.
This is also influenced by the fact that the situation in the United States, Mexico's largest trading partner, is not good.
The American economy is worse than Mexico's,
If this trend continues, -XNUMX%,
If the second wave worsens, it is expected to drop to -XNUMX%.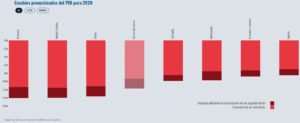 ☝☝☝GXNUMX GDP forecast
From left to right: France, England, Italy, EU, Canada, Germany, US, Japan
The number of foreigners entering Japan in April
XNUMX people, down XNUMX% from the same month of the previous year.
However, since this includes day trippers in border areas,
Travelers who have spent at least one night in Mexico are:
of which XNUMX%XNUMX peopleIt's just
The above data is for the first month when the infection began to spread,
May will be even worse.
The industries most affected by this are:
tourism, aviation and transportation.