Software is more amazing than the camera! ?
What do you think when you look at Instagram photos?
The reason I started traveling to Mexico was
In reality写真Such you.
I was an amateur photographer.
I'm not good at all, (bitter smile),
rustic village scenery,
Nature,
When I meet people there, I take pictures of themI really love you.
☝☝☝XNUMX years ago, a family stayed in a village in Chiapas
I no longer have the camera that took this
As soon as I arrived in Mexico,
A single-lens reflex camera borrowed from his father,
I lost it in an accident...
After that, I used my savings to buy a single-lens digital camera and took pictures for a while.
Also the mirror was broken...
Even if you bring it to an authorized service center,
"The model is too old and no more parts"
What are you saying,,,
I just bought it myself for the first time,
I'm shooting with a smartphone that costs less than XNUMX yen. (bitter smile)
If you save money, buy a small SLR,
I want to keep shooting the scenery of Mexico again. (smile)
In the SLR era,
By changing the aperture finely,
Adjust the background blur,
Take care of the composition and stick to the same place and take many shots. (bitter smile)
very wellDedication to a single photoBut,
I think that there was quite a lot although I was not good at it.
Since it's a digital camera, you can take proper pictures and correct them later.
not,
I took pictures so that I would not have to make corrections as much as possible.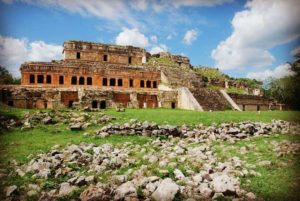 ☝☝☝Some Instagram corrections are included, but, Sayil ruins in Campeche
When I still had a film camera borrowed from my father,
From development to printing,
I was doing it myself.
With film, each sheet costs money and time, so
I still remember that I was taking pictures carefully.
Then develop the negatives and
(Is there a lot of young people today who don't know about developing?)
Print it in black and white,
In the darkness, the image floated up,
Also, if it is as I imagined,
"Oh, here we come!"
When,
I was so excited one by one. (Excited!)
sell to someone
I'm not doing an exhibition.
I'm attached to that kind of photo,
I still have it in my photo folder.
(Super self-satisfied lol)
Another thing that made me happy was
Nikkei business magazine,
I'm glad you bought a few. (Joy!)
That's what got me started
I still keep in touch with the reporter from time to time.
Starting with Instagram
It's been less than a year, but
Sometimes I am quite surprised.
what the hell
to its beauty. (smile)
Aren't all the pictures beautiful!
people, landscapes and animals.
Especially younger sisters
The color is also very white,
Your skin looks smooth too. (smile)
As much as I think it would be nice to be in a photo book,
I also took a perfect repose.
You look like a model.
Instagram seems to have a lot of women statistically,
Inevitably, I often see photographs of women.
And the number of "likes" is also an order of magnitude.
That's what I thought when I saw those pictures.
"What I think is a good picture and what everyone thinks is a good picture,
quite far awayWhat is it?" (Shin)
Then I thought again.
"Everyone,For whatCorrected like this,
It's virtual, but it's probably uploaded to a public place called Instagram."
I guess some people are making money with it,
I don't think most people do.
Even thinking about that
In the end, the answer that is the answer will not come out,
In my case, the majesty of nature in reality,
A simple smile in black and white,
people's living environment,
Because I am a person who emphasizes reality,
Surely a modern fashion,
In the tendency to make it beautiful by filling it up,
I can't keep up (yet). (bitter smile)
I plan to continue using it as a photo book, but
I thought that the world of photography would change dramatically in XNUMX years from now.
I'm super analog and I think.
For that reason,
Please take a peek sometimes if you like!
Instagram: koiwasaki.mex
☟☟☟ Or Scan.