"Great Hand" Mayan Ruins Kaba.
XNUMX years living in Mexico,
"Showing the true face of Mexico to the world!'
with the motto
I'm Kou Iwasaki, a licensed tour guide and driver in Mexico.
It seems that the heat wave is continuing in various parts of Japan.
How are you all doing?
I'm sure you're used to this every year, but
Don't forget to hydrate
To manage your physical condition,
continuation,
Together with Corona
Please note.
Hippo.
It is written as Kabah.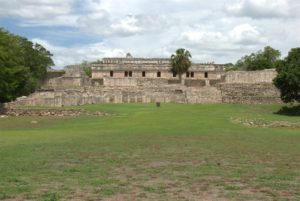 Photo: Taken by Iwasaki
few,
At the city ruins (remains) that leave the original name,
The meaning is
"great hand"
North of the previous Sajir,
It is located about XNUMX km.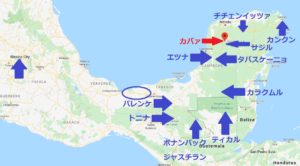 ☝☝☝This is here. (The leftmost arrow points to Mexico City)
(Google Map)
There are several hills in this area,
the land is fertileIt has the feature of.
The heyday here is said to be from around XNUMX to around XNUMX,
Like other cities,
Since then, a settlement has been formed,
It was inhabited.
In a survey based on pottery excavated from this area,
The oldest is around XNUMX-XNUMX B.C.E.seems to go back to
That means
In Calakmul and Tikal, the ruins of the early Maya in the south,
It was around the time when the construction of religious buildings was about to begin.
At that time
around here
Human habitation was beginning.
Even in Etuna, which I introduced the other day,
It was around the time when people began to settle down.
このHippoIt is,
In an area of ​​about XNUMX㎢,
There are buildings that can be roughly divided into three groups,
It is believed that about XNUMX people lived there at the time.
Among the XNUMX groups, the areas open to the public are
only in the eastern part,
hereinhabited by high-ranking people in politics and religionIt has been with.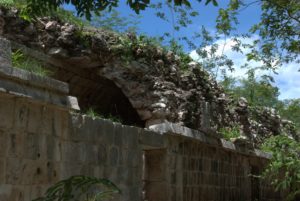 Photo: Taken by Iwasaki
As a feature of the Kava building,
using limestone
Use of advanced stuccoCan be mentioned.
This is not only cover
Puuc region (one of the XNUMX regions that make up the Maya region)It is a characteristic that can be seen in the area.
In addition,
such as using highly carved stones,
そのProcessing technology is also a featurestand out as
Like Sajir and other cities,
Hippo tooSacbe (Mayan Way)Through
Connected to other cities.
In the case of Kava, Uxmal (Uxmal), which is about XNUMX kilometers northeast,
It seems that there was interaction mainly with Nohpat in the northeast.
Such a cover
Etna,
Tabasqueño,
At the same time as cities such as Sajir,
It declines around the year XNUMX.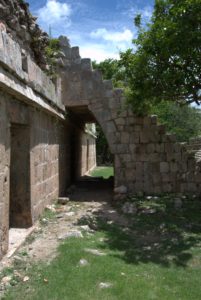 Photo: Taken by Iwasaki
For cover,
same Mayan raceBut,
Created Chichen Itzaof the Chontal tribeItzaesdue to the invasion of
considered abandoned.
ItzaesYou also explained that the was the tribe that founded Etuna.
Chichen Itza is said to have flourished around XNUMX-XNUMX.
At this time, it was just approaching its heyday.
If you go to Uxmal (Uxmal),
By all means, please go here as a set ~ (laughs)
#MexicoCentralTours
[Kiote Communication]See also back issues