That's why mountains can't stop.
Super sunny weather for climbing.
Almost all the time when I'm climbing a mountain,
"Why are you here again?"
I think.
"Why am I doing the same thing over and over again, carrying such a burden on my back and making my breath go down a steep slope?"
When.
But for some reason it keeps coming back.
I guess it just depends on people's tastes,
For example, I think people who like marathons feel the same way.
When I'm running, it's really painful,
I think there are many people who run thinking, "Isn't the goal yet?"
Even if I'm dying of exhaustion at the goal,
I'm trying to enter again when I notice it.
on second thoughts,Magnificent scenery that can be seen after sufferingOr
Sense of accomplishmentOr because that kind of thing transcends the suffering on the way.
This is a feeling that people who don't know don't understand at all.
Not interested in mountains or nature
For example, game otaku (bitter smile),
No matter how much I explain this magnificence to people who have no connection with nature in the first place, they will not understand.
"really"
It ends with
I mean, it's not something that can be explained in the first place!
It's the same as not being able to describe the person you love in words.
So, I went to the mountains last weekend as well, and this was it.
Superb view.
What more do you want!
It is a magnificent 4200-degree view from an altitude of 360m that makes you think.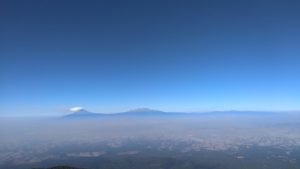 I have climbed this mountain (Malinche or Malinzi) many times,
This is the first time it has been so clear and sunny.
This view where you can see all 6 peaks of Mexico, including the mountain you are standing on.
吶 吶 吶 吶
Cloudless sky.
Looking at this,
Daily small problems, human relationships,
It's like, frankly, "it doesn't matter". (bitter smile)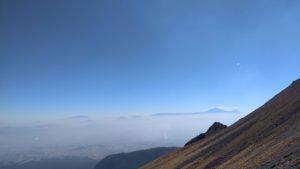 So what's the big deal with the coronavirus?It seems to be
Change the way you spend your time,
Don't go to crowded places,
How about enjoying yourself in the grandeur of nature?
It's a bit off topic, but
IStrong opposition to self-restraint of economic activities (especially travel).
"Don't go out because it's a virus" is a bit off-topic.
What you're trying to say to ′′ refrain from going out ′′ is to reduce the risk of infection.
ThenIsn't it better to have fun outdoors with few people?.
You can hike in the forest, go birdwatching, or go to the botanical gardens.
At times like this, I think it's a good opportunity to stare at nature again.