[People on bills XNUMX, continued XNUMX] What Miguel Hidalgo did.
XNUMX years living in Mexico,
"Showing the true face of Mexico to the world!'
with the motto
I'm Kou Iwasaki, a licensed tour guide and driver in Mexico.
Continuing from the previous session.
Who is Miguel Hidalgo?
Independence Day next month
I will write about it as well.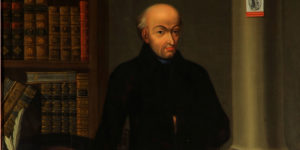 My real name isMiguel Gregorio Antonio Ignacio Hidalgo Costilla GalladaIs called.
It's long. (smile)
In XNUMX,
at the San Vicente farm
Born to Spanish parents.
In other words,
So he is of Criojo lineage.
Because I was born in Mexico
I couldn't call myself Spanish.
Because I worked with various tribes,
Nahuatl, Otomi, Prepecha,
later mastered FrenchIt is said that
Career as a priest
In XNUMX,
The city of Morelia today,
It starts when you enter high school in Valladrid.
French at the time
It seems that it was "fashionable",
through the French,
European politics, thought, etc.
Deepen your knowledge.
At the age of XNUMX,
He was entrusted with the priesthood in Colima and Guanajuato,
In addition, it will boost industries such as local handicrafts and dyes, fabrics, and honey using Cochinja insects.
Rumor has it that they also made religious "moonshine".
It looks like this wasn't for sale.
According to another rumor,
Having relationships with three women
It seems that he has five children,
This was in XNUMX,
It has been officially declared a "hoax" by the Mexican government.
He's a priest, so he shouldn't be allowed to have relationships with women. (smile)
after that,
I started participating in a Criojo gathering called the "Literature Club".
thereBecame acquainted with independence movement comrade Ignacio Allende.
By the way, Allende
you all knowAllende in San Miguel de Allende.
Named after this person.
This "literature club" is planning an independence movement,
After all, the story is leaked.
in Mexico,
About people who can't keep secrets and tell others
"Chizumoso"It's called. (smile)
"He's 'chizumoso' so let's keep quiet",
That's what it means.
It was originally supposed to rise in December XNUMX, but
Faster for this leak.
This isEarly morning on September XNUMXth,
In other words,
It's Independence Day today.
Disagreeable,
wait a minute.
In Mexico, Independence Day is September XNUMXth.
It is celebrated on the night before the XNUMXth.
why?
As an aside,
The birthday of Porfirio Diaz, who later became "President",
Since it was September XNUMXth,
He moved the celebration day forward to coincide with his birthday! (bitter smile)
Indeed,
You can do whatever you want as a dictator.
So the celebration event will be held on the XNUMXth instead of the XNUMXth.
No festivities on the XNUMXth,
It's a quiet holiday.
Early in the morning of September XNUMXth,
In the heart of Dolores Hidalgo village,
Church of Nuestra señora de los Doloresin front of
Gathering a crowd of about XNUMX,
famous
"Viva Mexico!"
(Viva Mexico!)
I'll give you a shout.
That's a mistake (laughs).
In fact,
"Vamos a matar gachupines!"
(Kill the Spaniards!)
I cried.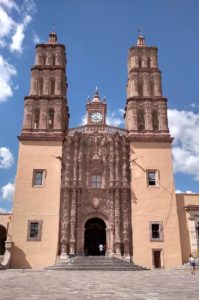 ☝☝☝Here is the historical site (photographed by Iwasaki)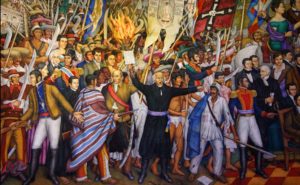 In the first place,
At that time, "Mexico" did not yet exist.
This
It was the beginning of the decade-long war of independence.
The first step towards Mexico as a modern independent nation was taken.
This moment
I wrote last time,
Advising on the return of imperial rule at Nijo Castle,
Something that has the same impact as the one act at the Kogosho Conference at the Kyoto Imperial Palace
This is the scene I wrote.
there,
Why did it come to the point of saying, "Let's kill it!"
If you have read my blog so far, you will understand.
Mesoamerican people are
They were extorted from the colonial government and church to pay relentless annual tributes.
There was also "slavery" by the Spaniards.
There was also prejudice against some Cliojos and mestizos.
The dissatisfaction with such a situation exploded.
After this inaugural meeting,
Father Hidalgo and Comrade Allende,
San Miguel El Grande,
San Miguel de Allende todaymarch towards
At Atotonilco, which I stopped by on the way,
It also became a symbol of the subsequent War of Independence.
You get a "flag" with a statue of Guadalupe on it.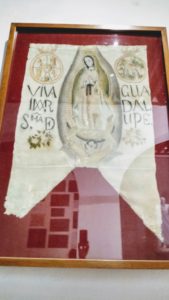 ☝☝☝This is it. (Photo by Iwasaki at the Miguel Hidalgo Museum)
Following this move,
Archbishop of Colonial Nueva España
Excommunication from the Catholic Church for all who rise up.
After this,
Continue on to Guanajuato.
And what happened there...
Look forward to next time~ (laughs)
Thumbnail image:
https://www.eluniversal.com.mx/nacion/grito-de-independencia-por-que-celebramos-el-15-de-septiembre
#MexicoCentralTours
[Kiote Communication]See also back issues