[The person on the bill XNUMX, continued XNUMX] Miguel Hidalgo's battle and final moments
XNUMX years living in Mexico,
"Showing the true face of Mexico to the world!'
with the motto
I'm Kou Iwasaki, a licensed tour guide and driver in Mexico.
It's sunny in Mexico City today.
I went to the market to buy some,
The temperature is XNUMX degrees,
low humidity,
The climate is very pleasant.
It may be a little intense and difficult today,
If you are interested, please read below~
The Battle and End of Miguel Hidalgo
Now is the time
As a tourist destination in Mexico,
Guanajuato is one of the most famous places along with San Miguel.
But it has a bloody history...
Guanajuato is
Silver veins were discovered after Spanish colonization,
After that, as a silver mining area,
Along with Zacatecas and San Luis Potosi,
"Silver Road"
An important base that formed the
Thousands of Spaniards also lived there.
Led by Hidalgo and his comrade Allende,
A mob of armed separatists left San Miguel,
Seraja(now there is a Honda factory),
on September XNUMXthGuanajuatoArrive at
Then he attacked the Spaniards who were inhabitants of Guanajuato.
Spaniards attacked
He escapes for his life to the granary (allondiga de granaditas).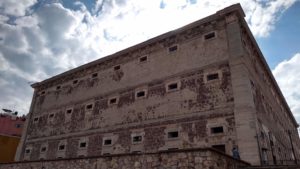 ☝☝☝This is it. (Photo by Iwasaki)
I think it's in the guidebook too.
Guanajuato has an observatory.
There is a big statue there,
Coco is commonly known as "Hill of Pipira".
The person in this statue is called Pipira.
This person is a young ingenuity,
My name is Juan Jose.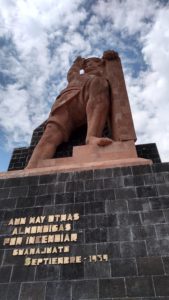 ☝☝☝It's this person. (Photo by Iwasaki)

☝☝☝View from the observatory (Photo by Iwasaki)
According to the "legend"
To burn down the door of the pantry where the Spaniards barricaded themselves,
He is regarded as a hero for his courageous actions despite the rain of bullets.
But,
This is a bit of a shady story. (bitter smile)
The battle in Guanajuato lasted for four days,
More than XNUMX civilians are said to have died.
Hidalgo then
in Vajradoli (now Morelia) and Guanajuato, respectively.
establish an independent military government,
On December XNUMXth in the city of Guadalajara in the west,
From Colonial Nueva España"Declaration of Independence"And the.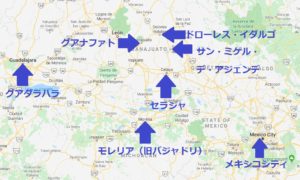 ☝☝☝Positional relationship of each city
The distance between Mexico City and Guadalajara is about XNUMX km.
(From Google Map)
"Declaration of Independence"Even if I say
I didn't see the surrender of the Spanish side,
The battle continues for ten years.
At least by the official "independence" in XNUMX,
Two more proclamations are made that include the word "independence".
On October XNUMXth,
In a village called Charro near Vajadori (now Morelia),
Jose Maria Morelos,
Meet new comrades.
With the advent of Morelos,
Independence movement enters second stageand enter.
MorelosIt is,
Along with Hidalgo and Allende,
still hailed as an independent heroIt is
For that reason, XNUMX pesos bills,
It's on the new XNUMX peso bill.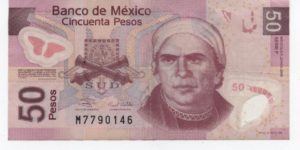 ☝☝☝This person
Furthermore, the city of Morelia is his place of birth (guess),
In XNUMX after independence
ValladridFrom
take his name
Moreliahas been renamed to
South of Mexico City is the state of Morelos,
named after him.
I will write more about Morelos later.
Alright,
Independence forces led by Hidalgo
after that,
laterIturbide, first emperor of Mexicofight against the hordes of them and win,
Head to Mexico City.
at that time,
Mexico City has almost almost thin guard,
It was a perfect chance to attack.
Butwhat did hidalgo think
give up the assault.
Because of this, I will buy antipathy from my friends.
after that,
in San Jeronimo, southwest of Mexico City.
San Luis PotosiFought and defeated the Spanish army led by
Escape to Guadalajara.
By the waySan Luis PotosiIt is,
It is now the name of the state of San Luis Potosi and its capital.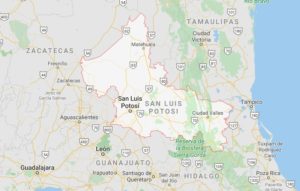 ☝☝☝This state. (From Google Map)
On the other hand,
Even though I'm Spanish
Not all were enemies
InsideSome groups supported independenceThat's right.
them
Los Guadalupes
(Guadalupe and others)
I was calling.
Guadalupe is
I wrote about four times recently,
that"Brown Madonna".
The Independence Army is divided into two halves.
One is a group seeking aid from the United States,
The other is a group that remains in the Michoacán area, where Valladolid (now the city of Morelia) is located.
XNUMX,
Hidalgoare comradesAllende, Aldama, Jimenezdeparted north with
Arrive in Chihuahuabut
thereYou will be captured by the colonial authorities.
☝☝☝Chihuahua City, Chihuahua
On June XNUMX, three comrades,
On July XNUMXth, Hidalgo
Eachwas shot dead.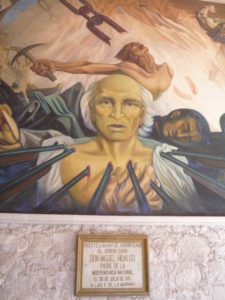 ☝☝☝Plate from the scene where Hidalgo was shot
The bodies of the four
He was buried in the Church of San Francisco de Asis in Chihuahua City.
head cut offAnd
In each of the four corners of the food store Alhondiga de Granaditas in Guanajuatoput in a "cage",
until the end of the War of IndependenceExposed for ten yearsIt was.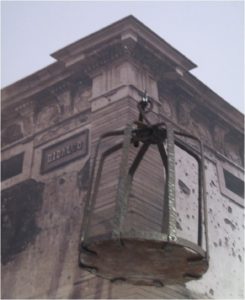 ☝☝☝It's a basket (image/from Twitter)
Even now, at the top of the four corners of Alhondiga de Granaditas,
A plate with the names of the four heroes is embedded.
It is because of this history.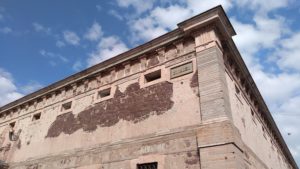 ☝☝☝This is it (Hidalgo is written on this corner/photographed by Iwasaki)
The four bodies were exhumed in XNUMX,
With the head exposed in Guanajuato,
It is enshrined in the Metropolitan Cathedral of Mexico City.
Enshrined in the Independence Monument since XNUMXIt is done.
☝☝☝Here
Now with a beautiful cityscape,
Like turning over a jewel box,
Guanajuato is famous for its night view that is described as
It has such a bloody history.
そ し て,
Leaving aside the pros and cons of attacking defenseless civilians,
Without the attack
The scenario for the subsequent independence,
It would have been something else.
next time,
The second stage of the War of Independence,
another hero,
person on billJose Maria MorelosI will write about ~ (laughs)
#MexicoCentralTours
[Kiote Communication]See also back issues