In Mexico it's over 30 degrees during the day.It's hot. . .
But it's a carat, so it's pretty easy to spend in the shade.
I am coming to Oaxaca.
Even if you say Oaxaca, it is very wide.
470 km distance from Mexico City to Oaxaca City (equivalent to Tokyo to Himeji in a straight line),
It is the longest distance from east to west of Oaxaca State, just under 500km in a straight line (about the prefectural border between Hyogo and Okayama from Tokyo),
The straight line distance between north and south is less than 400km!
Since I can't finish describing the vast Oaxaca in detail,
I'll just give you a brief introduction here.
The state of Oaxaca is divided into eight regions,
National costumes differ from region to region.
.At the traditional festival Guelaguetza held in July every year,
Delegates from eight states gathered at the Guelaguetza Hall in Oaxaca City.
Wear folk costumes and perform folk dances.
What is Guelaguetza?
"share"
"Share"
It means "charity"
We don't just share things,
beyond its meaning,
"Love" not only for the Zapotec, but for all other peoples,
And it means the act of sharing "nature and life".
In Oaxaca villages, weddings are held in a different style than in the cities.
The photo below is from a wedding in a village in Oaxaca a few years ago.
There is even a gas cylinder among the gifts. (LOL)
After the mass, dance to live music.
Although the village is small,
All the villagers mobilize to celebrate the bride and groom.
In these rural villages, there is a custom similar to the Japanese betrothal ceremony.
Say Dote
The groom's parents give the bride and groom livestock such as two cows (Yunta water buffalo) and goats for farming.
It has the meaning of assisting the bride and groom in their new life.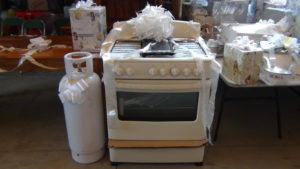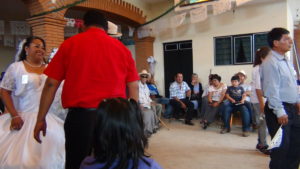 Oaxaca is visited by large numbers of tourists from all over the world on Day of the Dead (Día de muertos), which was the setting for the movie "Remember Me Coco".
Recently, it is also known as the hometown of Yalitza, the leading actress in the movie ROMA.
note:
[Day of the Dead] is a local traditional event (called Obon in Japan), and was not originally a tourist event for the purpose of attracting customers.I see foreigners who don't understand the reason mistake it for Halloween (because the day is near) and dress up in costumes and drink alcohol and make noise at the grave.I think it's good to visit the graves and see the local customs, but it's inappropriate to make a fuss by mistaking it for a festival.Be sure to understand the customs of the locals and act so as not to disturb them.
Whenever I go to Oaxaca, I always go to the market.
I like the market because I can feel that I want to see the atmosphere of the land wherever I go.
One day when I entered the market of San Cristobal de Las Casas in Chiapas,
A foreign Caucasian woman repeatedly said the F word and said something she wanted to see.
You seem very surprised.
That should be it,
The market here is not as bright, clean and organized as in Japan.
The market is also used as a dining room for the common people.
It is crowded with many people in the morning and afternoon.
On this day, I overslept a little and when I went there around 9:XNUMX, it looked like the picture.
In Oaxaca, grilled meat is called tasajo.
There are several types of meat.
Lime juice or guacamole,
Sprinkle salsa and wrap it in a large tortilla and gobble it up.
Another must eat in Oaxaca is mole (first picture of Mole).
It uses XNUMX kinds of raw materials and is characterized by its rich flavor compared to Moles from other states.
The next yellowish one is called Estofado,
It's a kind of leak, but it's similar to curry and it's delicious!
The last is called Tlayuda,
Meat and vegetables are placed on or sandwiched between giant tortillas about 30 centimeters in diameter and eaten.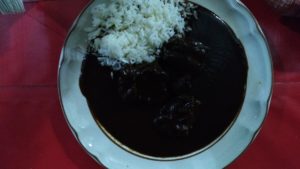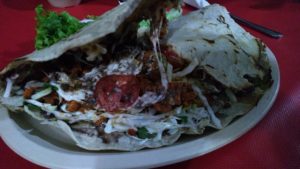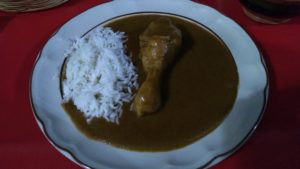 Ordinary tours don't seem to include such places in the tour route,
It's nice to take Instagrammable photos in the beautiful town of the World Heritage where the Golden Route is maintained,
This is the place where you can feel [Mexico] with all five senses!
But you still need courage if you don't change your mind...
I will gladly accompany you.
I can't write it here, so please come and visit Oaxaca.See you soon.