In pursuit of true Rakuten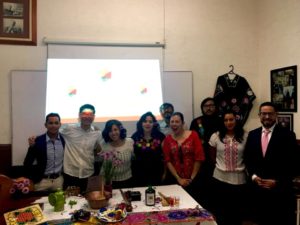 (Presentation with old classmates)
I sometimes go to school for guide classes and training.
The school is small,
There is only one subject per day, but the students are diverse.
What is the variety?
From 17-year-old high school students to 68-year-olds,
We are buzzing in the same classroom.
Those who are studying travel guides while still in high school,
A genius who once got a job after finishing graduate school, but thought "it's different",
A woman in her mid-40s who retired very early,
A 68-year-old woman who is an active guide,
A dentist woman who decided to become a guide at the age of 60,
An uncle near 50 who is a guide at a balloon company in Teotihuacan and is always bright,
A whimsical woman in her early 30s who runs a flower shop while studying to help out with the family business.
A XNUMX-year-old man who is chattering around and rarely listens to his teacher, but is actually an amazingly smart and knowledgeable man.
A man in his early twenties who came from the military but wants to be a guide,
And Tsutomu, an out-of-salary worker in his late 30s from Asia,
That's what it looks like.
I'm desperate to keep up with class,
they know or they don't know
Super own pace itself.
I tend to worry about things like, "What if I didn't pass the exam?"
They don't care. (bitter smile)
In the first place,
"What should I do if I become..."
But,
Really,Totally not.
Rather, a stubborn Majime-kun like me is "crazy".
With such an ultra-optimistic personality,
"It'll work out."
There is
Moreoverwithout confusion, It's amazing because it really works.
運?
Aside from what's good and bad, how can you do the same thing and live so brightly and cheerfully?
"Su Te Ki"
I think so.
It's been 14 years since I came to Mexico.
I was also (even with this) pretty good weather,
Still, they are above the clouds for me. (smile)