Spanish is surprisingly familiar.
XNUMX years living in Mexico,
"Showing the simple face of Mexico to the world!"
with the motto
I'm Kou Iwasaki, a professional travel guide and driver.
I am writing from Mexico today.
"I don't understand English, but I can't speak Spanish!"
And those who have a foreign language rejection reaction.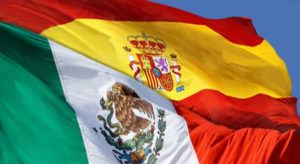 Do not worry.
You already speak Spanish.
Japanese products, soccer teams, company names, etc.
Did you know that Spanish is used everywhere?
By the way, in my case,
I was in the ski club at university,
The name of the department was Vamos.
A few years later,
It was only when I came to Mexico that I learned about it.
"That's Spanish for let's go."
When. (bitter smile)
By the way, my Spanish level XNUMX years ago was
That's what it was. (smile)
And after that, I grew up to persuade a Mexican woman (wife). (LOL)
As you learn Spanish little by little,
The name of the car started to catch my eye every time I returned to Japan.
For example,
Daihatsu Tanto,
Honda, of course, VAMOS,
Suzuki Alto,
Mazda's FAMILIA,
Nissan's SERENA,
That's what it means.
TANTO is
It means "many"
So much in English.
"Tanto!?"
(so much!?)
"No, no tanto"
(No, not really)
and use.
Vamos is We go in English.
And in the sense of let's go,
Vamos!Or Vamonos!I say.
Alto seems to have been taken from Italian for some reason,
It's the same with Spanish. Means "high".
Familia is family.
Serena means calm or calm.
later,
Speaking of Mexican beer, Corona.
It means crown.
Mucho of sweets Karamucho is Mucho.
Very in English, it means very much.
Mucho dinero is "a lot of money" (laughs)
For some reason, many soccer teams speak Spanish.
Avispa Fukuoka,
Kashiwa Reysol,
Jubilo Iwata,
Cerezo Osaka,
Also Verdy Kawasaki.
Avispa is a big bee,
Reysol is
Rey is king,
Sol is the sun.
Jubilo is motivated.
Motivated by Con jubilo.
By the way, the pronunciation is Fubiro.
Cerezo is cherry blossom.
Z is the pronunciation of the sa line,
In Spanish it is called Cerezo.
Verdy from Verdy Kawasaki.
It comes from Verde and means green.
That's why their team color is also green.
How about.
It's amazing how many there are when you go like this.
There are more, so I will introduce them next time.