First sighted by Europeans?The true face of the Mesoamerican megalopolis of Tulum, Part XNUMX
XNUMX years living in Mexico,
"Showing the true face of Mexico to the world!'
with the motto
I'm Kou Iwasaki, a licensed tour guide and driver in Mexico.
Facebook spam post.
I'll be there...
It takes time to process,
This kind of "work" that does not bring any profit,
I'm going to do it quietly as one of the work of one self-employed person. (pain)
Tulum.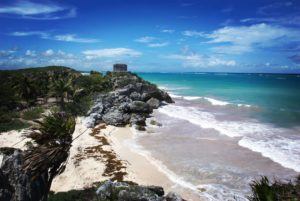 If you are going to Cancun,
Probably along with Chichen Itza,
almost always go
Or maybe it will be on your list of places to visit.
Since it's less than an hour away from Koba last time,
I am sure many of you will be traveling with us.
From Cancun
About XNUMX kilometers in a straight line to the southwest,
It's about two hours by car.
just in case
This time (part XNUMX and part XNUMX), the Maya series is
I would like to finish it once. (smile)
more than two months,
Since the ruins are Maya,
I plan to write about other cultural relics soon. (bitter smile)
As for the Maya relationship,
Southwest of Tulum,
There is a town called Chetumal that borders the neighboring country of Belize.
From there towards Calakmul,
In other words, on the route extending to the west,
I have a few more.
To the north of the Yucatan Peninsula,
There are still many Mayan ruins,
including those
I will write more later.
TulumThis place known for
Actually, this name itself is not the original name.
OriginallyZam áIt seems to say
it means in mayan"Morning"or sending us a message on"breaking dawn".
Most people who go to Coco
Coco ☝☟ is probably what you're looking for. (smile)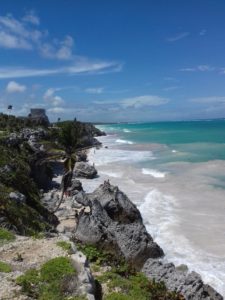 It's beautiful, isn't it ~.
The composition of the sea and ruins,
We create landscapes like no other.
This ruin is
Among the many ancient cities in Mesoamerica (now Mexico),
One of the earliest "witnesses" by EuropeansWhat is it?
As for how early
The Mexica (Aztec) Empire was "conquered" by the SpaniardsXNUMX.
the Spaniard
landed in Mesoamerica (now Mexico),
Aiming to conquer the Messican Empire,
toward the interior of its capital (now Mexico City)
It was in the first half of XNUMX that Japan took a step forward in earnest.
In the second half of the same year, he reached Tenochtitlan, the capital of the Messican Empire (now the center of Mexico City).
so,
The first "sightedness" of Samat (Tulum) is
XNUMXIt is said.
In XNUMX, he sailed near the eastern coast of the Yucatan Peninsula.
According to Juan de Grijalva's account of XNUMX:
"Find three settlements or towns,
I saw dwellings made of stone and large 'towers'."
That's right.
the size of the city,
"Like my hometown of Seville in Spain"
I recall.
It is said that they approached the sandy beach near the big tower.
This is,
Tulum first sighted by EuropeansAnd
one of the earliest discovered Mesoamerican citiesIt is thought that.
In the previous year, XNUMX,
Hernández de Córdoba is
I heard you saw another "huge" city,
This is probably
north of Cancun,
On the long narrow terrain where the Holbox is,
Cabo CatucheThis area is considered to be
"Speaking of ruins, pyramids!"
I think there are many people who are enthusiastic about it,
Chichen Itza and
like Teotihuacan
huge"pyramid"There is no (disappointing!)
That doesn't mean it's "unimportant".
of course.
Here is generally
of the Yucatan Peninsula,
Or even in Mayan cultureThe newest cityAlthough it is recognized that
The origin is the same as other cities,
A long time agoWhat is it?
There is a stone monument (called Estella) here as well.
According to the tombstoneXNUMX.
In other words,
In XNUMX,
It means that there was a "town" enough to make a stone monument.
Furthermore,
In order to become such a city,
Naturally, a certain population and
city ​​politics,
There should be no farming.
Since then,
There was settlement of people.
That means
At least
From an eyewitness by the Spaniard Juan de Grijalva,
Until it was found abandoned in XNUMX,
It has existed as a "town" for over XNUMX years.It will be.
It's been XNUMX years! ?
XNUMX years ago from now
in the middle of the Heian period,
It was around the time when Murasaki Shikibu's The Tale of Genji was completed.
A city with such a long life,
There's no reason why it's not "important," right? (smile)
That's why
It's a waste to just take pictures at the photo spots that appear in magazines! ?
Tulum, no
Samattrue face.
More details next time
I'll write what's going on.
Please look forward to it ~
#MexicoCentralTours
[Kiote Communication]See also back issues