Frequently Asked Questions About Mexico Sightseeing Tours
Q. How much does it cost?
A. Up to 1 hours a day, up to 12 adults + 2 children (because the 3rd row seats are narrow).For more information[Services and Fees]>.
Q. Can I change the schedule or cancel?
A. Date changes are free.If the schedule has been confirmed, if the cancellation is made within 30 days, the full amount of the confirmed number of days will be charged. if you have[Services and Fees]>[⑨Mexico Travel Advisor & Support] fee of USD 295 will be charged.Fees paid are non-refundable.In that case, please consider changing the schedule.Refunds are not possible if the hotel or ticket has been rebuilt by our company.
From the time we receive your inquiry, we will make careful preparations using time and money so that our customers can be fully satisfied.Please understand this point before contacting us, and we kindly ask for your cooperation in order to avoid sudden communication loss, cancellation, and non-payment of the prescribed fee.
Also, in order to prevent such situations that are disadvantageous to both parties, please be sure to contact us before making an inquiry."Prices and Services">and"Precautions">Thank you for reading.If you have any questions about the content, please contact us before requesting the service, and use our series of services after acknowledging the content.
Q.Can I pay in cash?
A.It is possible, but it depends on the amount.You should avoid carrying large amounts of cash in Mexico.In case of theft or loss, we cannot take responsibility.Please consult us in advance.We currently only accept payments in Mexican Pesos.
Q. How is the public order?
A. This is a difficult question to answer.not only in mexicoSecurity issues when traveling abroadI will follow you around.also in mexicoDepending on the locationIt may be dangerous if you go one step back, and you may be attacked by robbers even if there are people passing by.The Internet and travel magazines sometimes optimistically state that "there is no problem with public safety!", but depending on the location, travelers who are unfamiliar with the local situation should be careful and stay alert. would never be better than.Unfortunately, long-distance buses and taxis are not recommended means of transportation.Of course, if you use my service, I will guide you on crime prevention measures, and because I am familiar with the local security situation, the risk of being victimized will be greatly reduced.
Q. I use the Internet on my mobile phone. Where can I get a SIM card?
A. You can buy it at a local convenience store.On the other hand, it is possible to rent a pocket WiFi at our company.By using this, you can save the hassle of purchasing and setting up a SIM card, and you can also share WiFi with your companions without the need to receive/return procedures in Japan.Please inquire about rental fees and communication fees.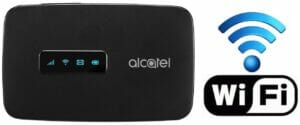 Q. Other companies are cheaper, but is there anything we can do?
A. As you know, the price of any service varies greatly depending on the content.First of all, after confirming the details of the other company's tour you have seen (private or mixed, tour time, number and location of sightseeing spots, presence or absence of guide license, before and after care, etc.), If you still feel that our company is "too expensive", please let us know.I can't promise to reduce the price, but I will sincerely consider what I can do, and I will do my best to maximize customer satisfaction.
Q.I can't use email or LINE.Do you have a fax machine?Do you have other means of contact?
A.We are unable to accept inquiries by fax at this time.I'm sorry.the easiest is"chat"or sending us a message on"phone"is.Please refer to the following for usage.A computer screen is used as an example, but the operation on a smartphone is the same."phone"If you wish, you can call me directly by pressing a button without needing a number.
How to use
1.Click the red circle button on the bottom right of the screenPlease press. You will see two buttons "Chat with us" and "Call Us".If you would like to chat (text), please press "Chat with us", and if you would like to make a call, please press "Call Us".If you wish to make a call, please consider the time difference with Mexico (Japan minus 15 hours).If it is between 7:10 am and XNUMX:XNUMX pm in Mexico time, there is a high possibility that you will be able to leave.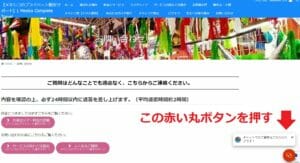 2.A small window will open.Please enter your name and press the start button.There is a menu before inquiry"Price">と"Precautions">Please see in advance.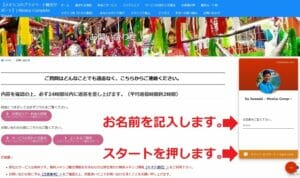 3.Please enter your question in the lower part of the small window.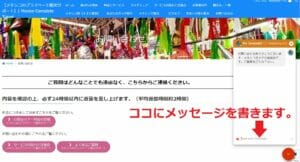 4. When you have finished entering, press the red airplane mark on the right to send.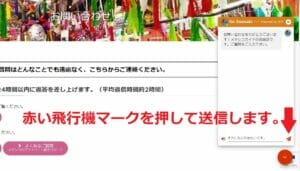 5.You can close the site after sending.If you visit again from the same computer or smartphone, the message will remain unless you "end".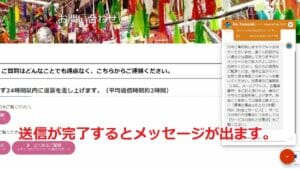 6.We will get back to you within 24 hours (2 hours on average).Please wait for a while to see our reply, or wait for a whileOur homepage>and press the red circle button at the bottom right of the screen again.Or,LINE, email address, phone numberPlease fill in and we will reply to you.In the case of a phone call, it will not be notified because the call is from a foreign country.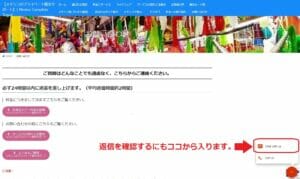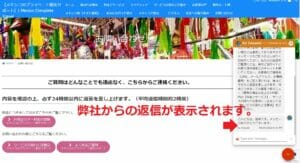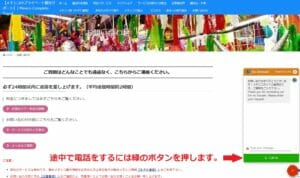 7.To "end" the exchange of messages, press "X" in the upper right corner of the small window.If you can continue, please leave it as it is.If you are concerned about personal information, we recommend that you press "X" every time.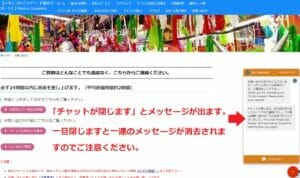 Q. Can I use a credit card?
A. It can be used almost anywhere, but please use a card with an IC chip.Magnetic tapes are more likely to be skimmed.Places that can't be used are small shops, taco shops, ticket booths at archaeological sites and museums.We accept payment by card.  
Q. Can you help with airport-hotel transfers and check-in?
A. Yes, we are happy to do so.For more information[Services and Fees]> Of⑩ Pick-up serviceplease look at.Of course, we will also help you with check-in and check-out.Transfers to local airports and hotels are also available at an additional charge.Please feel free to contact us as the price varies depending on the location.
Q. Is it possible to change the route or itinerary during the trip?
A. Of course it is possible.The time during the tour is your "freedom".You can freely change the route if it is within the time, so please feel free to tell us.If the hotel has already been booked and paid for, you will be responsible for the full cost.
Q. What should I do in case of trouble, accident, sudden illness or injury during the trip?
A. We give top priority to the safety and health of our customers.We always carry primary lifesaving equipment (bandages, gauze, isodine, thermometer, oxygen concentration meter, blood pressure monitor, etc.).We will know the locations of hospitals on the route in advance, and if it is unavoidable to visit a hospital, we will change part of the itinerary or cancel the whole itinerary and take you to the nearest hospital.Please be assured that we also accept interpreters.We will consult with you at that time regarding the excess time (outside the requested period) due to long-term hospitalization or outpatient visits.In the case of our negligence (poor physical condition, accident, etc.), we will arrange a substitute guide and driver at our expense.
Q. Should I purchase travel insurance?
A.  Please be sure to.We may not be able to provide services to those who are not insured.Please check the conditions of insurance application before traveling.There are various insurance companies, but it is about 8 yen to 3000 yen for 6000 days..It has nothing to do with our company, but if you don't mindThis site>>Please refer to.Please check the contents of the coverage, especially the disability/illness/relief expenses and personal compensation, as they are important.If you have any chronic illness, please let us know in advance.
Q.I am planning to participate in a group tour, but is it possible to have a guide only during my free time?
A. Yes of course!Please let us know your preferred date and time as soon as possible.
Q. How much should you tip at a restaurant?
A. 10%.
Q. What means of transportation are there?
A. Public transportation (city bus, subway, long-distance bus, taxi) is available.However, it is not as convenient and comfortable as Japan.There are no timetables for buses or subways.Long-distance buses have a timetable, but they may not come or arrive at the scheduled time, so we do not recommend it to those who do not have time to spare.For safety reasons, long-distance buses and taxis are not recommended for those who are accustomed to traveling abroad but are unfamiliar with Mexico.We place the utmost importance on the safety and efficiency of our customers' trips, and as a general rule all travel is guided by a driver (Iwasaki) who understands the traffic conditions in Mexico. .
Questions about business attendance
Q. I am going to Mexico for a business meeting. Could you arrange the itinerary, transportation, interpretation, hotels, etc.?
A.  Yes, of course.If communication such as making appointments with Mexicans is not going well, we will help you.In addition, if you need an interpreter with the other party, please let us know in advance if you are going to have a conversation with highly specialized content.If we decide that we cannot handle it, we will arrange a professional interpreter.In that case, the customer will be responsible for the cost.
Q.Would you like us to conduct an on-site survey?
A.Yes, we are happy to do so.Please let us know your request first.Based on that, we will discuss the details such as fees and deadlines.
Q. Can you do business on your behalf?
A. Yes.I have about 12 years of sales experience at a local Japanese company in the sales field.
Q.Would it be possible for you to obtain and ship product samples?
A.Yes.Prices[Services and Fees]Please see [(XNUMX) Survey and product purchase agency].
Q. I would like to go to Mexico on a company trip.Can you organize a tour for me?
A. Of course you can.First of all, please let us know your requests.
| Home|Recommended reason|Services and fees|Ride share|Flow&Notes|Reviews|Routes|Blogs|About your guide|Climbing|Comprehensive business support|Safety Initiatives|Contact Us|