Reasons to go:
・The scenery of the central historic district is [World Heritage]
・You can walk while enjoying the calm atmosphere of the center
・There are many folk craft shops
Before independence from Spain it was called San Miguel El Grande. During the 1500-year period from the late 300s when silver mining was active, it prospered as a stopover on the Silver Road (Ruta de la plata).Allende comes from this village, Ignacio Allende, one of the heroes of the Mexican War of Independence.Although it is a small village, in recent years it has become popular as a vacation home for foreigners (especially North Americans), and English can be heard everywhere in the city.Handicrafts such as folk crafts and glasswork are sold here.
Location:
About 290 km northwest of Mexico City, about 4 hours by car, 70 km northwest of Queretaro City, about 1 hour by car, about 95 km, about 1 hours by car from Guanajuato Airport just west of San Miguel.
map:
https://drive.google.com/open?id=1rlD6PUxeAy45cP8Fo8QLCQB6TGth81XR&usp=sharing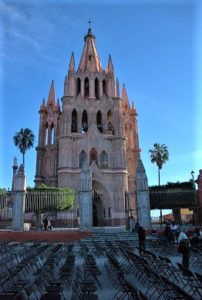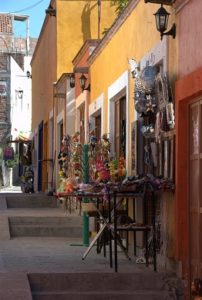 Click here for a consultation desk for free travel to Mexico ☟
Please feel free to contact us!
Or,
Email ko@mexicoct.com
Line koiwasaki-mx
You can also use the line QR code☟

We always reply within XNUMX hours.
If you do not receive a reply, it is possible that it did not arrive due to technical problems.
We apologize for the inconvenience, but please contact us via Facebook messenger or call us.
050-5539-7594 (domestic call charges apply)
It takes some time to call or answer.Also, depending on the time difference (Japan - 15 hours) and communication conditions, we may not be able to answer your call.In that case, we will call you on the incoming number later.Thank you for your understanding.