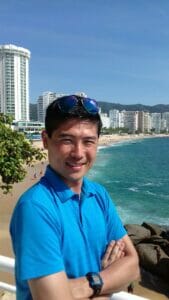 Nice to meet you, everyone.
XNUMXth year living in MexicoThis is Isao Iwasaki of .
Even in my private life, I love traveling (poor travel), and I have driven almost all the important points in the southern half of Mexico (south of the latitude where Zacatecas is located).When I go by car, I can see the scenery along the way.
I also love driving so much that I have driven 36 times around the world (more than XNUMX km) in Mexico. (Continuing lifelong accident-free record)
My hobby is salsa (dance).I started doing it because I'm not good at it, but I like it anyway, and even if I'm tired or sad, if I have a silly ruckus with my friends over tequila and salsa, everything will be blown away (laughs). I got married in XNUMX, and it was salsa that led me to meet my Mexican wife.
Also, after coming to Mexico, I came to like Japanese sake.I also have a license as a sake taster, and I like to explain Japanese sake to Mexican people, including tequila.
Living as a Japanese (foreigner) in a 36% Mexican society with XNUMX% Mexican values, traveling XNUMX kilometers in Mexico, the reason why I can say "This is Mexico!" I started this business because I want people to experience the unadorned goodness of Mexico that cannot be explained in , and things that cannot be tasted in Japan or other countries with all five senses.
The reason I started traveling was when I was in agony during my university life, I read the story of Naomi Uemura, an adventurer who disappeared in the winter of Denali (formerly known as McKinley). It was a paperback called Bet on the Mountain.At that time, I thought, "Let's go abroad!"But it has no clear purpose.I simply wanted to stop living the way I had been living by inertia.
I wanted to find a job if I wanted to go anyway, so I searched for an English-speaking country where I could go cheaply and decided on Canada.After I settled down, I worked 3 part-time jobs in order to raise funds, and I was only doing either school or part-time work.
In Canada, I wanted to go to English school for only three months and then work on a farm, but it was out of season and I ended up bored with nothing to do.After a lot of thinking about what to do, I thought, "I'll do something crazy once."I stopped by famous sightseeing spots, so I traveled about 5 kilometers by bicycle.There are inns, restaurants, and shops in the town, but between towns are forests, forests, forests.Of course there are no hotels or restaurants.I spent two and a half months sleeping outdoors in the woods, under bridges, and on the roadside, making sandwiches with bread, ham, and mustard that I bought in town and eating them every day.I used to run 2-odd kilometers every day, but one day I hurt my knee, so I spent two weeks sleeping outdoors in a park to rest.I had nothing to do, so I went to a cafe every day and wrote letters to my parents and friends.It seems that I looked too poor and poor, so the clerk brought me a lunch set for free. (Happiness!) It was a moment when I felt really grateful to myself, who had no money and only ate sandwiches.
By literally doing it on my own, I was able to experience the magnificent nature of Canada first-hand, overcoming problems such as bicycle theft, injuries, and fatigue. did.
I spent my 20's and early XNUMX's like that, and I'm still here.
<Guide profile>
XNUMX Born in Kakegawa City, Shizuoka Prefecture
XNUMX Left home for XNUMX years and went to Uruki Village, Nagano Prefecture to study in a mountain village.
XNUMX Entered Shizuoka Prefectural Hamamatsu Commercial High School
XNUMX Entered Nihon University School of Commerce Dropped out in XNUMX
XNUMX-XNUMX Stayed in Canada
XNUMX Moved to Mexico
XNUMX Entered a small trading company that exports Mexican fruits to Japan, but went bankrupt in XNUMX.
XNUMX Began a full-fledged sales job in the same trade industry, focusing mainly on new development of untapped local markets and large chain stores.
XNUMX Married to a Mexican wife and launched a tour business
XNUMX Leaving office ⇒ Current position
[Kiote Communication]Now, I'm disseminating information not found in guidebooks, such as my frank opinions, local information about Mexico, daily life in Mexico, etc., from a Mexican perspective.Please take a look!
[Kiote Communication]Sent daily from Mexico!
I upload a lot of photos on SNS!
#MexicoCentralTours
Facebook
Instagram