The snow-covered white figure is exactly "white woman"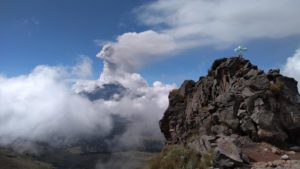 What kind of mountain is Mount Iztaccihuatl?
Means "white lady" in Nahuatl. Iztac is 'white' and Cihuatl is 'female'.As the name suggests, the snow-covered figure looks like a woman sleeping on her back, and it is also a symbolic mountain of Mexico.As evidence of this, relics such as pieces of wood thought to have been used in religious ceremonies were found on the summit of Mt. Iztaccihuatl.In addition, at several ruins discovered at the foot of the mountain, religious buildings were found that were oriented according to the sun rising to the summit.
Drive to 3950m point.After that, a 4500-4 hour round trip route to the ridge (5rd station) at about 4700m, a 5-6 hour route to the 5000m point at the 10th station*, or a XNUMX hour round trip course aiming for an altitude of XNUMXm** (Primera rodilla). will guide you.
There are several routes, but we will only guide you to the safest route.
*Additional charge will be applied for each hour if it takes more than 12 hours from hotel departure to return.
"Rates&Services'please look at. **To acclimate to the altitude, we will enter the base and camp the day before, and depart early in the morning.
How difficult is it?
The difference in altitude is not as great as that of Malinche, just a little over 3m up to the 500rd station and 4m up to the 700th station, so the route isn't too difficult. 4 minutes from the 10th station is the evacuation hut, and from there to Primera Rodilla at 5000m point, the slope increases, and the rocky terrain and the altitude approaching 5000m will quickly exhaust your physical strength.If you go normally, it is a difficult place of about 2 hours.The risk of falling rocks is also high on this section, making it the site of the highest number of shipwrecks on Mount Iztacíhuatl.
In the afternoon, the weather changes quickly, and even if it's sunny, the risk of gas-filled lightning strikes rises several tens of minutes later, and even hail can turn the ground white.
For safe and enjoyable mountain climbing
A popular and recommended tour is to climb both Mt Iztaccihuatl and Mt Malinche in 5000 or 4700 days. On the first day (camping to the 5000m point the day before), aim for the 3-1m point of Mt. Iztaccihuatl, and on the third day after one day, aim for the summit of Mt. Malinche.Alternatively, on the first day (arriving early in the morning), you can climb Mt. Iztaccihuatl lightly up to the XNUMXrd station, or hike up to the XNUMXst station to acclimate your body and aim for the summit of Mt. Malinche the next day.
If the weather is good, you can see Mt. Popocatepetl emitting smoke.Our guide, Iwasaki, will bring water, a stove, a pot, and freshly ground coffee.You can enjoy exceptional Mexican coffee on the mountain!If you bring water, you can also cook instant noodles.
Led by a guide licensed by the Mexican Ministry of Tourism
Primary life support (primary treatment for bleeding, open fractures and closed fractures, sprains, cardiopulmonary resuscitation) for natural environments away from urban areas, included in the Natural Guide License NOM-09-TUR-2002 certified by the Ministry of Tourism of Mexico , airway foreign body removal) course (renewal every two years), and in the event of an accident, necessary first aid measures can be taken until medical personnel arrive.
In addition, in mountainous areas where mobile phones cannot be connected, in order to enable emergency calls such as rescue teams, we will have our personnel (those who have undergone basic life-saving training) on ​​standby at the base to enable wireless communication. We are organizing.In addition, if there are more than 4 people, in addition to the rescue personnel waiting at the base, a sub-guide (certified by the Ministry of Tourism) will accompany the climber.
We do our best to ensure that our customers enjoy safe and enjoyable climbing.
On the other hand, we must not forget that mountaineering is a dangerous sport against nature.Please fully consider your own physical strength, physical condition, and experience,at your own riskPlease join us.again,Please carefully check the coverage of the insurance contracted in Japan.It may not apply to mountaineering, and even if it does apply, it may not apply to accidents above a certain altitude.If you wish, we will guide you to Mexican insurance.Please note that this is only guaranteed up to an altitude of 3500m in principle. Currently, there are no insurance products with coverage over 3500m.
If the weather turns bad and there is a possibility of rain, or if any of our customers get injured or become ill, we will do our best to ensure the safety of our customers.I decided to cancel the tour and go down the mountain.Please understand that there is something to do.We recommend that you acclimatize to the altitude by exercising such as running in Mexico City at an altitude of 2200m, and bring medicine to prevent altitude sickness.Due to the high altitude, it gets cold even in summer, so please prepare warm clothes.
Photo gallery
Iztaccihuatl mountain seen from the base is beautiful
Mount Popocatepetl looking south from near the first station
Looking down on the 4rd station from below the 3th station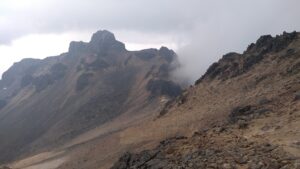 From the evacuation hut to the difficult rocky area.The part hidden above is the 5000m point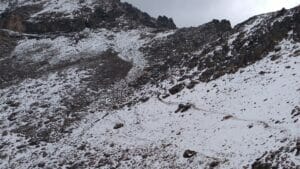 From behind Primera rodilla at 5000m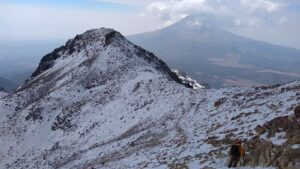 The 5220m summit has a surprisingly gentle slope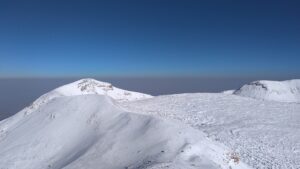 360-degree view if the weather is clear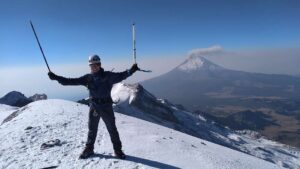 Delicious trout dishes after descending the mountain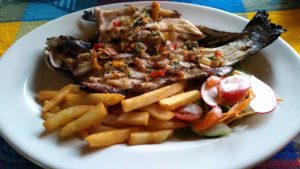 | Home|Recommended reason|Services and fees|Ride share|Flow&Notes|Reviews|Routes|Blogs|About your guide|Climbing|Comprehensive business support|Safety Initiatives|Contact Us|