If you can dance, you will feel closer to Mexico!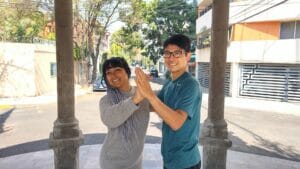 The Mexican teacher and I, Iwasaki, will guide you carefully one-on-one!
👆 Cumbia
👆 Salsa Cubana (Cuban Salsa)
You can't say you've been to Mexico without dancing salsa! ?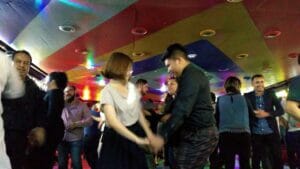 👆 Akiko, who came from Japan, was also entertained until two hours before boarding the plane.
There are many pleasures in the country and the land.The decisive difference between Japan and Mexico, and Japan and Latin countries, is the presence of dance.There are Latin dance classes in Japan, such as salsa, but it is unlikely that you will dance to Latin music in your daily life.Japan is karaoke.Many people go to a closed place called a karaoke box when it comes to meeting friends or drinking parties.There is also karaoke in Mexico.But basically it's a style of singing in front of a lot of people on the spot.That's why there's no such thing as karaoke, but dance is a social space that surpasses it.In Mexico, dancing can be seen as early as Thursdays, on Friday nights, and on Saturdays and Sundays at bars and parties.
There are many types of Latin dance.Salsa, cumbia, bachata, and banda in Mexico.First and foremost is salsa.Latin music is loved by many people all over the world.Even in this salsa, the way of dancing differs depending on the country and region.The style of salsa that is often danced in Japan is called salsa en linea in Mexico.By the way, in the video above I'm dancing Cuban style.Salsa Cubana.In Colombia it is called Salsa Colombiana.There is also a dance called cumbia that is often danced in Mexico.Cumbia is also popular in Mexico, Cuba and Colombia.People who want to enjoy a Mexican party.For the time being, if you remember cumbia, you can't go wrong. (Laughs) By the way, the fact that you can dance to salsa songs with cumbia steps is also a convenient reason.
Dance for yourself, not for show!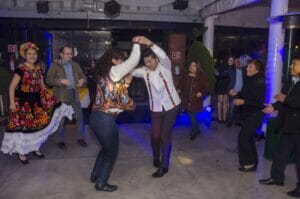 👆 At the party, everyone dances in turn, regardless of whether they are good or bad. (smile)
This is our wedding dance time.Even if it's dance time, it's about XNUMX% of the whole time. (bitter smile)
It seems that there are many salsa classes in Japan.Many of you have already learned salsa and other dances.There are many people who have never learned it, and many who have never done it because they are "bad" or "embarrassed".One thing I feelI feel that many Japanese people dance to "show off".Even if you learn the steps in a dance class, you tend to want to dance beautifully in a group without originality?That's fine, but let's not forget that the essence of dance is to enjoy yourself.
The first step is to stop worrying about what other people think.
There are many dance halls in Mexico, but from what I've seen, not all of them are "good".Even in this Latin country, Mexico, where salsa and cumbia are the real thing, there are people who can't dance, who are "bad", and who don't like dancing.In the same way that Japanese people go to karaoke without worrying about whether they sing poorly or not, Mexicans enjoy themselves at dance halls without worrying about whether they are good or bad.This is Mexico, the Latin way of socializing.On the other hand, Japanese people who look like foreigners are praised for being able to dance even a little. (smile)
It's not the purpose to dance well and beautifully without mistakes.Mexican dance halls make you feel the essential way of enjoying such dance.Once you've memorized the simple steps and a few types of turns, why not head out to Mexican Night! (Laughs) I'm sure you'll be addicted!
Practice at the salon if you can!
👆 Salon de Baile (dance hall) for the common people that I often go to
In Mexico, dance halls are called Salon de Baile.
Steps and turns learned in Mexico.They are not meant to be kept secret.It's fun to actually use it!Of course, it's fun to dance with a couple or parent and child in an empty home, but let's try the steps and turns that we learned in the dance class together with the locals in Mexico!
Even though it's called a dance hall, it doesn't mean that there are many professional people, but it's a place where a bar and a dance hall are combined.It's a social place.The music is basically live music, and various bands play in turn.Let me request that it's your birthday. (smile)
For those who can drink alcohol, it is good to entrust your body to the rhythm of salsa and cumbia while drinking beer, tequila, or whatever you like.It's completely OK even if you can't drink alcohol.If you feel the rhythm, steps and turns will come out naturally.
Tips to learn to dance faster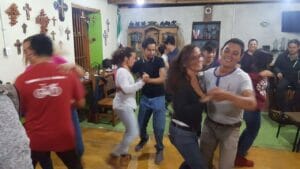 Of course we danced at the launch of the guide school. (smile)The woman in front is French, I'm Japanese, and everyone else is Mexican from all over Mexico.Nationality and hometown are irrelevant!
First of all, don't worry about difficult steps and turns, just listen to various songs and learn the rhythm with your body.As you listen to different songs, you will find your favorite songs.
Once you've figured out the rhythm, use YouTube to repeatedly watch the dances of the "good guys" and get an image of them.Here too, we don't learn difficult steps like in a dance class.It's called image training.
If you've come this far, it's easier to get a feel for the dance classes in Mexico.
There are individual differences in the speed of learning.But don't forget.The purpose of dance is to enjoy yourself.If you are happy, your partner will be happy too.No matter how good a dancer you are, if you don't enjoy it and try to do it according to your own pattern, the other person won't be able to enjoy it.It's just right to give it to the opponent.
I understand the frustration of being frustrated if you can't do it for the first time.I was like that too at first.But the joy of being able to do it when I couldn't do it is exceptional.The most important thing is that you enjoy yourself at your own speed.
There is a charge (basically an hourly rate) to pay the Mexican teacher for the dance class.Feel free to choose your lesson time.Although there are individual differences, I feel that 1 hours is a little short.You will be taught by a Mexican teacher, but I will support you in Japanese, so don't worry.
As with the general plan, if you go anywhere within the time, no additional chargeGreat flat rate, you can use it consistently from consultation on travel to Mexico to sightseeing in Mexico and response to emergencies.Click here for detailsServices and Rates >please look at.Of course, it can be used by multiple people (up to XNUMX adults due to the space in the car, and up to XNUMX people can ride if the height is less than XNUMX cm), and the price per person is reduced accordingly. increase.
Mexico is five times the size of Japan, and inevitably the distances between tourist spots are long.Although it costs a little extra, you can enjoy Mexico more efficiently and deeply by combining it with the local pick-up &/or drop-off service.
If you are one person and are worried about the cost, you can also share the tour with one person [Ride Share].Please check this out for details.
Kiote's rideshare
Recommended for these people!
Those who want to try new things
Those who want to feel the "true face of Mexico"
Those who are unsatisfied with general tours
Female travel
Those who want to make a special trip to Mexico
culture lovers
Old and young men and women spending time in agony
Of course, people other than the above people are also very welcome!
| Home|Recommended reason|Services and fees|Ride share|Flow&Notes|Reviews|Routes|Blogs|About your guide|Climbing|Comprehensive business support|Safety Initiatives|Contact Us|