Sinantecatl in Nahuatl, nine mountains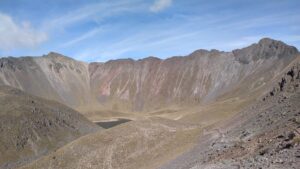 What kind of mountain is Nevado de Toluca?
Its original name is Sinantecatl, which means "nine mountains" in Nahuatl.
Pico del Fraile on the left of the photo is the highest point at 4680m.Pico del Aguila 4620m on the right.
You can hike at an altitude of about 4300 meters.Although the altitude is high, hiking does not require special equipment.Leave your car at the foot of the mountain and take the shuttle bus to about 4100m, where you can get off at about 4200m inside the caldera.The view from the edge of the caldera is truly spectacular!
How difficult is the climbing route?
It is a route of 4 hours up and 2 hours down.Please enjoy the world at an altitude of 900 meters, which is about 4680 meters higher than Mt. Fuji.The climbing route itself is not difficult, but there is a steep slope of about 200m at the end, and there is a danger of falling rocks, so please be sure to wear a helmet.About 30 meters to the summit, climb a rocky area like the spear of Mt. Yarigatake.As the trail is narrow and there is a danger of slipping down, only those with mountaineering experience will be allowed to guide you.
The Nevado de Toluca has a second peak, Pico del Aguila.It seems that tourists from Japan sometimes climb this mountain with insufficient equipment, but it will never be an easy climb, so be careful not to let your guard down.It takes 2 hours one way and 2 hours to descend, but there have been reports of fatal accidents near the second peak.This is also intended for experienced climbers only.
Led by a guide licensed by the Mexican Ministry of Tourism
Primary life support (primary treatment for bleeding, open fractures and closed fractures, sprains, cardiopulmonary resuscitation) for natural environments away from urban areas, included in the Natural Guide License NOM-09-TUR-2002 certified by the Ministry of Tourism of Mexico , airway foreign body removal) course (renewal every two years), and in the event of an accident, necessary first aid measures can be taken until medical personnel arrive.
In addition, in mountainous areas where mobile phones cannot be connected, in order to enable emergency calls such as rescue teams, we will have our personnel (those who have undergone basic life-saving training) on ​​standby at the base to enable wireless communication. We are organizing.In addition, if there are more than 4 people, in addition to the rescue personnel waiting at the base, a sub-guide (certified by the Ministry of Tourism) will accompany the climber.
We do our best to ensure that our customers enjoy safe and enjoyable climbing.
On the other hand, we must not forget that mountaineering is a dangerous sport against nature.Please fully consider your own physical strength, physical condition, and experience,at your own riskPlease join us.again,Please carefully check the coverage of the insurance contracted in Japan.It may not apply to mountaineering, and even if it does apply, it may not apply to accidents above a certain altitude.If you wish, we will guide you to Mexican insurance.Please note that this is only guaranteed up to an altitude of 3500m in principle. Currently, there are no insurance products with coverage over 3500m.
If the weather turns bad and there is a possibility of rain, or if any of our customers get injured or become ill, we will do our best to ensure the safety of our customers.I decided to cancel the tour and go down the mountain.Please understand that there is something to do.We recommend that you acclimatize to the altitude by exercising such as running in Mexico City at an altitude of 2200m, and bring medicine to prevent altitude sickness.Due to the high altitude, it gets cold even in summer, so please prepare warm clothes.
Photo gallery
Aguila Peak to the left of the base, and Furaile Peak to the far right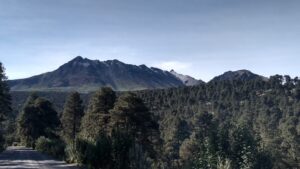 30 minutes to the summit of Fraire Peak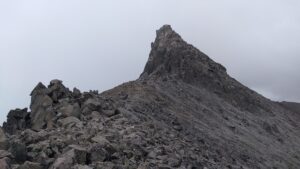 The view inside the caldera is spectacular.
Aguila peak seen from near the summit of Flaile peak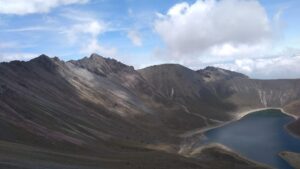 Turn left around the caldera to peak Aguila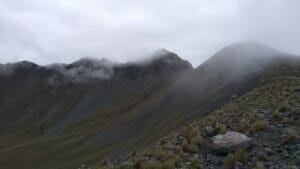 steep rocky terrain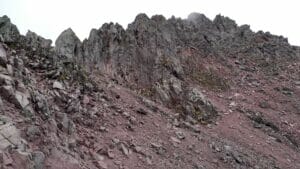 Just a few steps away from Aguila Peak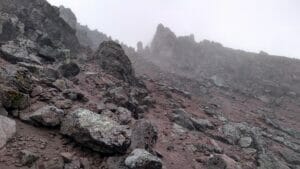 | Home|Recommended reason|Services and fees|Ride share|Flow&Notes|Reviews|Routes|Blogs|About your guide|Climbing|Comprehensive business support|Safety Initiatives|Contact Us |